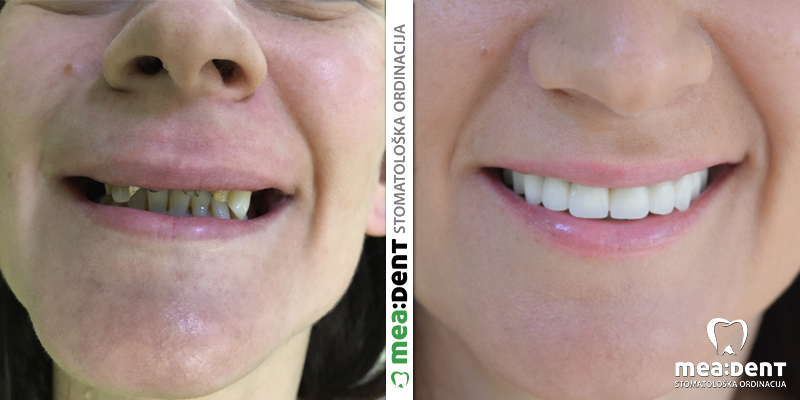 Cirkularni most (boja B1)
Pacijentkinja Z.B. rođena 1980. godine  dolazi u ordinaciju zbog nedostatka većeg broja bočnih zuba u gornjoj vilici sa obe strane. Prednji zubi bili su značajno oštećeni, sa plombama koje su bile dotrajale, nakon analize ortopan snimka u predelu gornjeg desnog drugog sekutića i levog prvog sekutića bili su prisutni procesi na vrhovima korena od neadekvatnog lečenja zuba u prošlosti.
Sa obe strane bočno pacijentkinja je imala drugi i treći kutnjak koji su na naše iznenađenje opstali i bili zdravi, pa je bilo i logično opteretiti ih protetskim radom. Na samom startu pristupili smo lečenjima zuba sa starim plombama i reviziji lečenja zuba sa procesima. Nakon toga pristupilli smo apikotomiji oba gornja zuba, međutim desni drugi sekutić imao je cistu koja nije imala dobru lokalizaciju. Šta to znači? Ukoliko se na nekom vašem zubu pojavi granulom (manji proces) ili cista (veci proces) i ima lokaciju na samom vrhu korena prognoze su 99% uspešne. Ukoliko je taj proces lociran na bočnim stranama korena takvom zubu nema spasa i mora se izvaditi. Nažalost, kod naše pacijentkinje to je bio slučaj na jednom zubu.
Pošto je pacijentkinja mlada ,a ostaje bez desnog gornjeg drugog sekutića , uradili smo privremeni most od 6 kruna kako bi premostili period do zarastanja rane i posmatrali efekat uspešnosti apikotomije.
Nakon 3 meseca sve je bilo spremno za početak definitivnog protetskog rada. Na lečenim zubima izrađene su livene nadogradnje , a zdravi zubi nisu dodatno devitalizovani (nije vađen živac). Uzet je precizan otisak silikonom i urađen metalokeramički cirkularni most od leve sedmice do desne osmice.
Rezultat možete videti na slici i sami proceniti da li vam se dopada.
Pacijentkinja je bila izuzetno zadovoljna, a mi ponosni na nju jer je sve ovo junački izdržala. Bolova nije bilo jer naša ordinacija koristi samo anestetike u koncentracijama od 4%. To su duplo jače anestezije, a sa njima stomatologija je daleko prijatnija čak i onima koji se "smrtno boje zubara".
Mnoge smo oslobodili straha, dozvolite da pokušamo i Vas.
https://meadent.com/wp-content/uploads/2016/06/metalokeramicki_most_cirkularni_b1_hollywood_smile.jpg
400
800
Milos Potic
https://meadent.com/wp-content/uploads/2013/10/meadent-logo.png
Milos Potic
2016-06-06 12:51:33
2017-10-14 08:25:33
Z.B. rođena 1980. godine