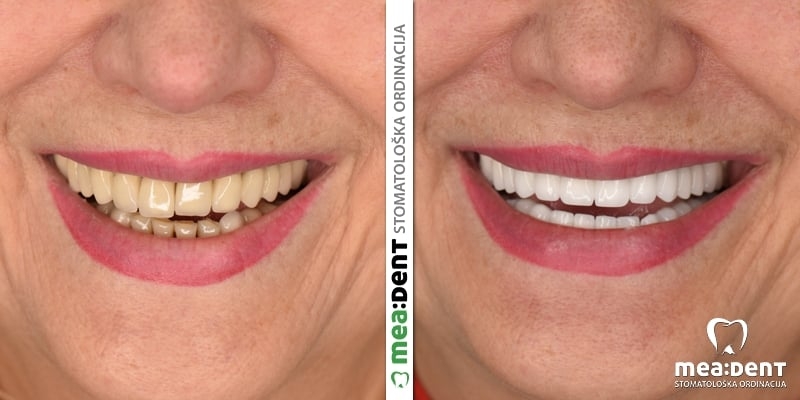 Cirkonijum krunice | S.I. 57. godina
Pacijentkinja S.I. rođena 1967. javila se nam nakon što je duže vreme pratila slike i opise naših radova. Zanimljivo je da je čak na osnovu teksta znala da nam tačno objasni kakve zube želi. Hteli smo da se našalimo i pitali pacijentkinju: " Nemoguće da ste pročitali ceo tekst? Mislili smo da to retko ko čita.._", A ona je odgovorila : " Pročitala sam od početka do kraja svaki vaš tekst koji ste do sad objavili." Vrlo smo joj bili zahvalni kad smo to saznali.
Dijagnoza
Stara protetika koju je radila pre 15 godina činila ju je starijom nego što realno jeste, a podeljen most na sredini između gornjih centralnih sekutića uticao je da spuštanje jedne strane mosta naniže za par milimetara. U donjoj vilici bočno obostrano pacijentkinja nije imala zube. To je takođe jedan od razloga zašto se most sa zubima spustio u prazan prostor.
Protetski rad
Nakon analize snimka pravljenje terapijskog plana kod pacijente je bilo jednostavno. U gornjoj vilici ,bilo je potrebno samo uraditi skidanje starih krunica, proveriti i obraditi stare nosače i na njima uraditi keramičke krunice. U donjoj vilici presvukli smo u krunice sve prednje zube i uradili vizil sa atačmenima, ili drugim rečima, protezu na klik. U prethodnim tekstovima bilo je mnogo reči o ovoj vrsti protetskog rada. Ukoliko ne želite implante i ne možete bočno da napravite keramičke mostove ovakva proteza je najudobnije rešenje, jer je povezana sa krunicama napred.
Na kraju je preostalo slikanje. Pacijentkinja je bila jako zadovoljna bojom i oblikom zuba,a osmeh nije skidala sa lica. Takođe, s obzirom da se smeje dosta široko i ima vrlo lep osmeh nije nam bilo teško da napravimo lepe fotografije.
Ukoliko imate želju da za sebe uradite nešto slično možete nas kontaktirati. Pošaljete mail sa pitanjem na ordinacija@meadent.com i vrlo brzo poslaćemo Vam odgovor.
Lep osmeh i lepi zubi otvaraju mnoga vrata u životu. Mi smo tu da se za to pobrinemo.
https://meadent.com/wp-content/uploads/2022/09/142086525_3644565855624194_129458367903049030_n.jpg
400
800
Milos Potic
https://meadent.com/wp-content/uploads/2013/10/meadent-logo.png
Milos Potic
2022-09-07 11:43:42
2022-09-07 11:43:42
Cirkonijum krunice | S.I. 57. godina