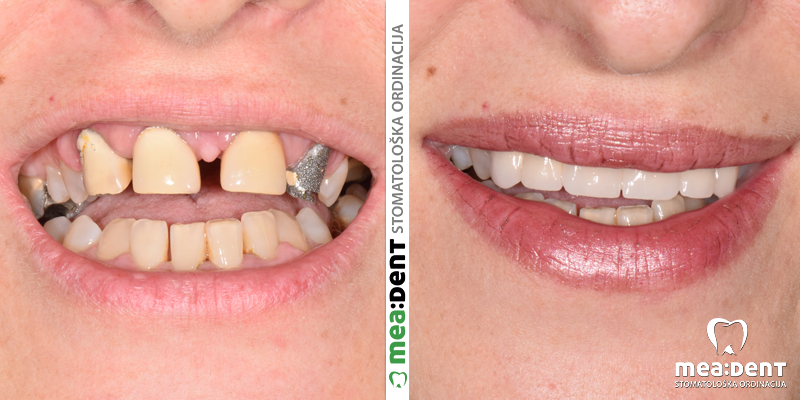 Nedostatak dvojki | M.S. 39 godina
Pacijentkinja M.S. rođena 1980. godine javila nam se zbog višegodišnjih pokušaja da sredi stanje svojih gornjih prednjih zuba. Pre svega zbog problema urođenog nedostatak dvojki, zbog čega je oduvek imala prostor između prednjih zuba. Istovremeno došlo je i do pucanja keramike na levoj trojci, jer se radilo o starom tipu metalokeramičke fasetirane krune. Pokušaji u mnogim ordinacijama da joj se pronađe rešenje nisu urodili plodom. Stomatolozi su uglavnom davali rešenja u vidu zamene starih krunica, ali to pacijentkinji nije bilo dovoljno.
Dijagnoza
Nakon što smo analizirali snimak i saslušali njene želje pristupili smo pažljivom merenju prostora između svih prednjih zuba. Insistirali smo da na tom merenju prostora, planiranju oblika zuba i kreiranju budućih spojnica na mostu učestvuje tim od 3 zubna tehničara. To su zubni tehničari laboratorije za zubnu tehniku Miloš Tešić, sa kojima već godinama izvanredno sarađujemo. Ideje nekoliko stručnih lica slile su se u najbolje moguće rešenje.
Pristup brušenju
Napravili smo poseban pristup načinu brušenja. Razmak između zuba smo kompenzovali adekvatno planiranim položajem spojnica između krunica kako ne bi smo kompromitovali meko tkivo i izvršili preteran pritisak.
Protetski rad
Na kraju, uradili smo metalokeramički most od 6 krunica koji se odlično uklopio u izgled lica pacijentkinje, ali i u njen zagrižaj. Ona je počela da plače, pa u prvom trenutku nismo znali da li je reakcija dobra ili loša. Onda je spontano zagrlila doktora i sestru koji su joj predali rad, uz rečenicu: "Konačno, hvala Vam puno!" Tad je sve bilo jasno., a zadovoljstvo postignutim rezultatom obostrano.
U ovakvim situacijama kada je potrebno nadoknaditi nedostatak dvojki, a mesta nema dovoljno, potrebno je pažljivo izmeriti raspoložive prostore i dobro isplanirati protetski rad. Saradnja tehničara i stomatologa izuzetno je važna, pogotovo u ovakvim zahtevnim situacijama.
Ukoliko imate sličan problem, a do sada niko nije uspeo da vam pronađe rešenje probajte u Meadentu. Mi ćemo se potruditi da vam pomognemo.

https://meadent.com/wp-content/uploads/2020/01/anodoncija-nedostatak-dvojke-keramika-dijastema-razmak-most.png
400
800
Milos Potic
https://meadent.com/wp-content/uploads/2013/10/meadent-logo.png
Milos Potic
2020-01-15 10:49:45
2020-01-15 10:57:27
Nedostatak dvojki | M.S. 39 godina