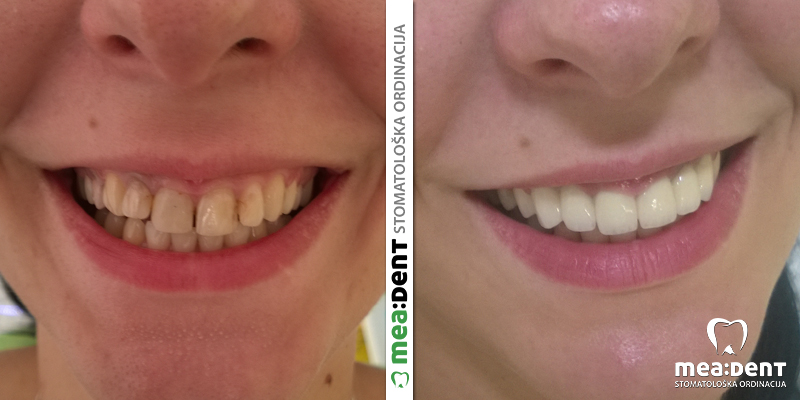 Metalokeramički cirkularni most
Pacijentkinja T.S.rođena 1989. godine javlja se zbog problema sa većinom zuba u gornjoj vilici. Veliki broj lečenih zuba, plombe na više površina, nemogućnost adekvatnog čišćenja prostora između zuba, stalno nakupljanje pigmenata oko rubova plombi i narušena estetika za ovu pacijentkinju bili su glavni motiv da postavi most od 8 metalokeramičkih krunica i tako i funkcionalni i estetski dobije savršen osmeh.
Najviše problema prilikom pripreme zuba za prihvatanje ovakvog rada zadale su nam izuzetno tanke i nežne desni. Takođe su bile i oštećene usled neadekvatnih kompozitnih ispuna. Prilikom brušenja, uz dodatak više anestezije nego što je u velikom broju slučajeva potrebno, obratili smo dodatnu pažnju na brušenje ispod desni najnežnijim crvenim dijamantskim fisurnim borerima sa polužlebom kako bi smo što manje oštetili tkivo oko zuba.
Pacijentkinja je nekoliko dana imala pojačanu osetljivost brušenih zuba, ali to nisu bili jaki bolovi. Nakon probe metala i probe keramike, ceo rad je glaziran, a pacijentkinja je bila izuzetno zadovoljna kako bojom tako i oblikom zuba. Tehničar je posebno želeo da naglasi oštre ivice na prednjim zubima i transparentnost (providnost) sečivnih ivica, čime zubi dosta dobijaju na prirodnom izgledu.
Možda najvažnije za ovu pacijentkinju jeste razgovor o higijeni i o tome koliko će sada nakon postavke mostova morati da se više trudi i održava zube nosače čistim. Svakako je neophodno mekanom četkicom i dalje nastaviti pranje desni oko zuba nosača jer su to ulazna vrata za infekciju ukoliko pacijent pomisli da nakon postavke krunica prestane da pere zube. Upotreba Oxy jet aparata koji ispušta vodu i vazduh pod pritiskom poželjna je za sve pacijente koje se odluče za veći protetski rad.
https://meadent.com/wp-content/uploads/2015/08/metalokeramika-gornji-cirkularni-most-prednji-zubi-boja-a2.jpg
400
800
Milos Potic
https://meadent.com/wp-content/uploads/2013/10/meadent-logo.png
Milos Potic
2015-08-19 16:09:51
2015-08-19 16:10:22
T.S.rođena 1989. godine