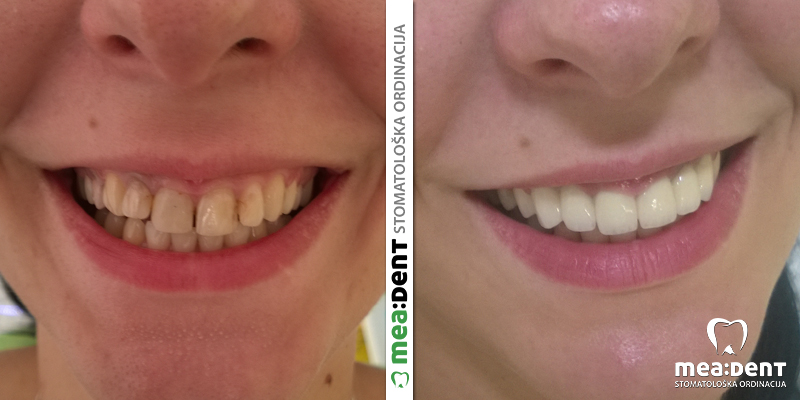 Upper circular bridge
The patient TS born in 1989 had a problem with most of the teeth in the upper jaw. A large number of treated teeth, fillings to multiple surfaces, lack of adequate cleaning between the teeth, constant accumulation of pigments around the edges of fillings and compromised aesthetics for this patient was the main reason to set up a bridge of metal-ceramic crowns for the perfect smile.
Most problems when preparing teeth for the adoption of the work we have set extremely thin and delicate gums. There were also damaged due to inadequate composite restorations. When grinding, with the addition of more anesthesia than what is in many cases necessary, we paid extra attention to the grinding under the gums gentlest red diamond fissure burs so that we minimize damage to the tissue around the teeth.
After the rehearsal and rehearsal metal ceramics, the whole work is glazed, a patient was extremely satisfied with color and shapes of teeth. The technician especially like to emphasize the sharp edges on the front teeth and transparency of cutting edges, which receive a lot of teeth to a natural look.
Perhaps most importantly for this patient is talking about hygiene and how much will now after setting bridges need to be more effort and maintains abutment teeth clean. It is certainly necessary with a soft brush and continue washing the gum around the tooth carriers because they are the front door for infection if the patient thought that after setting crown ceases to brush their teeth. Using Oxy jet which discharges water and air under pressure is preferred for all patients who choose to have more prosthetics.
https://meadent.com/wp-content/uploads/2015/08/metalokeramika-gornji-cirkularni-most-prednji-zubi-boja-a2.jpg
400
800
Milos Potic
https://meadent.com/wp-content/uploads/2018/12/meadent-logo-en.png
Milos Potic
2015-08-19 16:12:36
2015-10-15 10:26:31
T.S. born in 1989