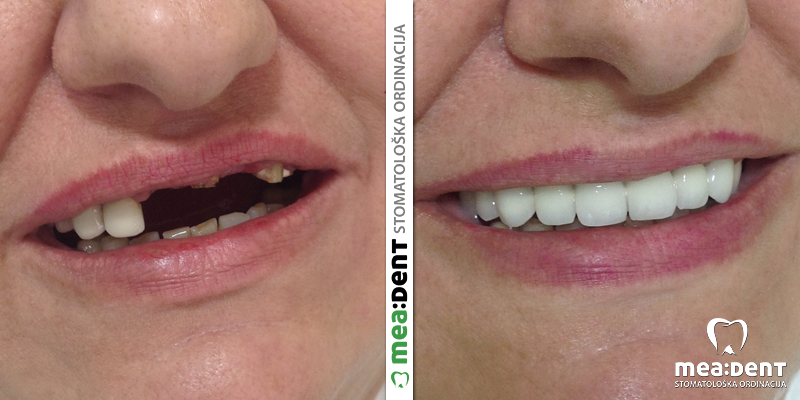 Metalokeramičke krunice | B.V. 59 godina
Pacijentkinja B.V. rođena 1959. godine obratila nam se za pomoć donevši ceo metalokeramički most u ruci. Uznemirena zbog toga što vidi želela je brzo da joj rešimo problem. Ona više nije imala zube kada se smeje i to joj je jako teško palo.
Dijagnoza
Nakon što je urađen ortopan digitalni snimak svih zuba i uzeta precizna anamneza o prethodnim protetikama došli smo do zaključka da je pacijentkinji rad bio urađen pre 20 godina i da od tada ona nije imala nekih većih problema. To se danas smatra izuzetno uspešnom protetikom. Ali, vreme čini svoje i zubi koji su nosili most su se oštetili.
Većina zuba kod pacijentkinje je bila dobro izlečena, a kost iznad zuba u nepromenjenom stanju. Zbog karijesa većeg broja nosača mnoge livene nadogradnje smo morali da izvadimo, zube očistimo i uradimo nove livene nadogradnje. Pacijentkinja je zaista imala sreće da su svi zubi koji su nekada služili kao nosači mosta i sada mogli da se dobro iskoriste.
Protetski rad
Nakon uzetog dvofaznog otiska kvalitetnim adicionim silikonom tehnika nije imala nikakvih problema da napravi odličan rad, a pacijentkinja je jako želela da boja bude prirodno bela. Izabrala je najsvetliju prirodnu nijansu bele boje.
Rezultat je bio baš onakav kakav je očekivala, bila je vrlo zadovoljna.
Ako su i vaši stari mostovi u problemu, a želite lep osmeh ponovo možete nas kontaktirati.
https://meadent.com/wp-content/uploads/2019/02/metalokeramicke-krunice-cirkularni-most-boja-b1.png
400
800
Milos Potic
https://meadent.com/wp-content/uploads/2013/10/meadent-logo.png
Milos Potic
2019-02-15 10:41:27
2019-02-15 10:44:13
Metalokeramičke krunice | B.V. 59 godina