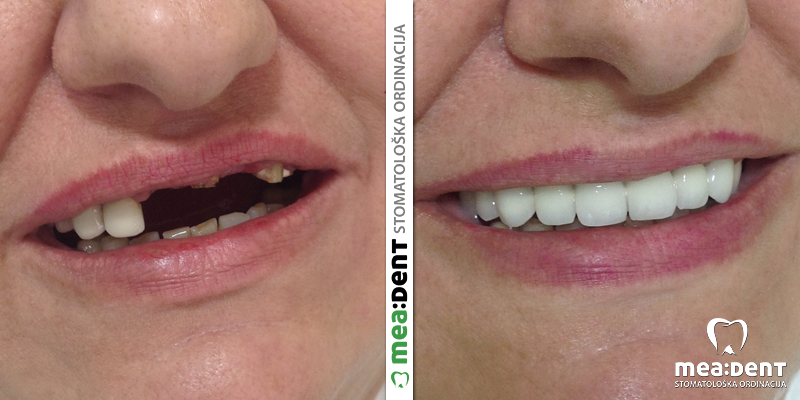 Metal-ceramic crowns | B.V. 59 years old
Patient B.V., born in 1959, has contacted us for help, bringing her metal-ceramic dental bridge in her hands. She was very upset for what has happened and wanted us to quickly solve her problem. She no longer had teeth when smiling and this really affected her.
Diagnosis
After doing a 2D digital x-ray of all teeth and taking precise information on her previous prosthodontic restorations, we came to conclusion that the prosthodontic restoration was done 20 years ago, and that since then until now, she had no greater problems with it. Today we can say that such prosthodontic restoration is very successful. But, the time acts on its own and the teeth bearing the dental bridge got damaged in time.
Most of teeth were very well treated, and the bone above teeth remained the same. Because of the tooth decay in greater number of teeth carriers we had to extract a substantial number of molded posts, clean the teeth and do new molded posts. The patient was very lucky that all the teeth that used to be responsible for bearing the dental bridge could have been used well again.
Prosthodontic restoration
Natural After two phases of taking dental impressions with additional silicone of excellent quality, team oh technicians had no trouble in making and excellent prosthodontic restoration, and the patient wished for the teeth color to be naturally white. She chose the lightest natural shade of white color. The result was exactly as she had expected and she was very satisfied.
If you also have a problem with old dental bridges and you long for a beautiful smile, feel free to contact us.
https://meadent.com/wp-content/uploads/2019/02/metalokeramicke-krunice-cirkularni-most-boja-b1.png
400
800
Milos Potic
https://meadent.com/wp-content/uploads/2018/12/meadent-logo-en.png
Milos Potic
2019-02-15 10:42:56
2019-02-21 11:32:56
Metal-ceramic crowns | B.V. 59 years old