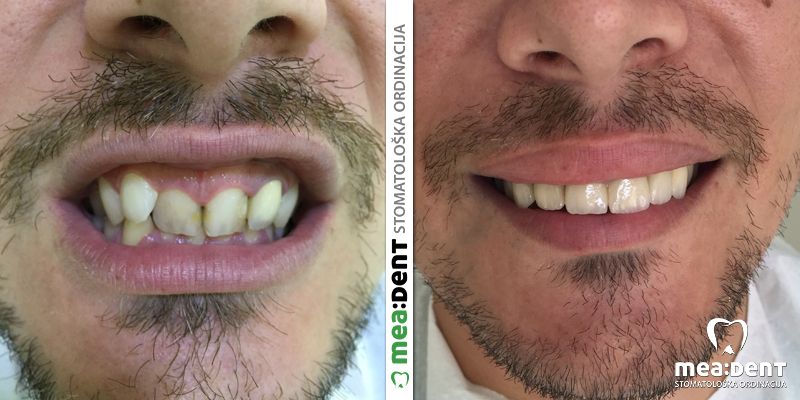 Bezmetalni cirkonijum cirkularni most (boja A3)
Pacijent T.K. rođen 1984. godine javlja se zbog estetskog problema. Pacijent ima veći broj kompozitnih (belih) plombi koje zbog rasporeda zuba nikada nisu mogle da izgledaju adekvatno. Plombe je često menjao,ali nije mogao da postigne željeni rezultat. Pojedini zubi imali su solo metalokeramičke krunice. Sve zajedno – bez estetskog momenta.
Nakon detaljnog pregleda i urađenog ortopan snimka odlučili smo se za najdužu i najispravniju terapiju. Bilo je potrebno da pacijent prvo ispravi zube fiksnom protezom, a tek nakon toga uradi protetiku izradom cirkonijum bezmetalnih keramičkih krunica u bloku.
Ovakav raspored zuba sa uvučenim centralnim sekutićima i izbačenim drugim sekutićima zove se degbis i vrlo je često stanje ljudi koji žive na ovim prostorima. Dubok zagrižaj, smanjen horizontalni preklop, položaj desni u odnosu na zub su faktori koji ne dozvoljavaju izradu protetskog rada. Zato je bilo potrebno sve zube dovesti u pravilan niz pa tek onda pristupiti izradi zubnog cirkularnog mosta.
Ispravljanje zuba fiksnom protezom trajalo je 6 meseci. Nakon toga desni su bile mnogo bolje, preklop zuba odgovarajući, a zubi su zauzeli pravilan položaj. Pristupili smo brušenju 7 zuba u gornjoj vilici vodeći računa o liniji demarkacije, budućem ležištu za krunice. Uzeli smo otisak visoko preciznim adicionim silikonom. Na kraju, izradili smo za nekoliko minuta i privremeni most koji je trebalo da sačuva novi položaj zuba do predaje definitivnog rada.
Pošto se radi o prednjem regionu gornje vilice odlučili smo se za izradu bezmetalnog keramičkog cirkonijum mosta od 7 krunica, jer je to najlepše estetsko rešenje. Rad sa cirkonijumom zahtevao je posebno umeće laboratorije za zubnu tehniku koja je morala da nekoliko dana dovede zagrižaj do savršenstva. Da je rad urađen tehnički savršeno videlo se na predaji rada kada je pacijent probao da zagrize i rekao da ima idealne kontakte i da mu nigde nije visoko i da ima odličan zagrižaj.
Naš pacijent bio je oduševljen estetikom. On nije želeo dodatnu belinu, želeo je svoju boju zubu, i u njegovom slučaju to je bila boja A3. To je celom radu dalo značajnu prirodnost.
Ukoliko se i Vama dopada način na koji pristupamo rešavanju problema pacijenata, kao i estetika kojoj težimo, možete nas kontaktirati.
https://meadent.com/wp-content/uploads/2016/10/bezmetal_cirkonijum_krunice_a3_estetika_vrhunska_fiksna_proteza_degbis.jpg
400
800
Milos Potic
https://meadent.com/wp-content/uploads/2013/10/meadent-logo.png
Milos Potic
2016-10-05 12:27:17
2020-11-07 09:56:37
T.K. rođen 1984. godine