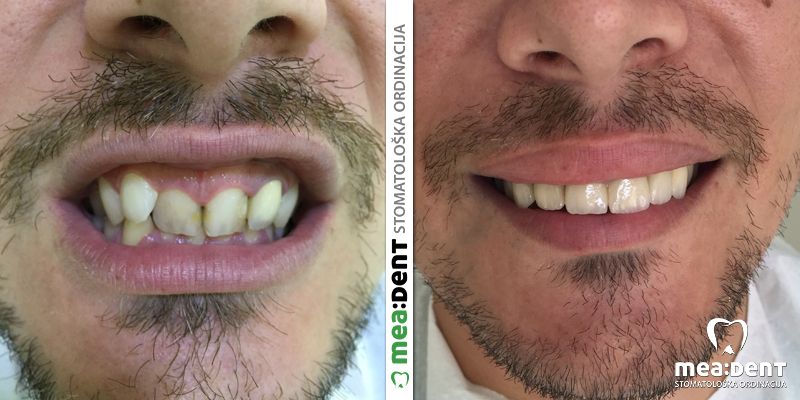 All ceramic circular bridge
Patient TK born in 1984, comes into the office because of the aesthetic problem. The patient has a number of composite (white) fillings that never seemed appropriate, because the position of the tooth was problematic. He often changed Dental fillings, but he was not able to achieve the desired result. Some teeth had solo metal ceramic crowns. All together – without the aesthetic moment.
After dental examination and panoramic x-rays, we decided for the longest and the right therapy. It was necessary to put the patient first fixed prosthesis, to change the position of the teeth, and only after making prosthetics with the zirconium metal free crowns in a row.
This position of the teeth with a recessed central incisors and lateral incisors protruding called degbis. Deep bite, gingival tooth position in relation to the tooth are factors that do not allow the start of prosthetics. Therefore, it was necessary to bring all the teeth in the correct string and then made tooth circular bridge.
Correcting teeth with fixed prosthesis lasted 6 months. After that gums were much better, and the teeth took the correct position.
We approached grinding 7 teeth in the upper jaw. It is an important line of demarcation, the future tray for crowns. We took a dental impression of high precision addition silicone. Finally, in few minutes,we made a temporary bridge that was supposed to save the new position of the teeth to definitive prosthetis work.
Since it is a front region of the upper jaw we decided to all ceramic zirconium 7 crowns bridge , because this is the best aesthetic solution.
Working with zirconium requires a special ability for dental laboratory technician who had to brought a bite to perfection, just in few days. The work done technically perfectly . When the patient tried to bite he said that he has ideal contacts and that nowhere is high and has excellent bite.
Our patient was delighted aesthetics. He did not want extra whiteness. He likes the color of his teeth, and in his case it was a A3 colour.
If you like the way we approach solving problems of patients, as well as the aesthetics that we aspire to, you can contact us.
https://meadent.com/wp-content/uploads/2016/10/bezmetal_cirkonijum_krunice_a3_estetika_vrhunska_fiksna_proteza_degbis.jpg
400
800
Milos Potic
https://meadent.com/wp-content/uploads/2018/12/meadent-logo-en.png
Milos Potic
2016-10-05 12:28:23
2016-10-05 12:28:23
T.K. born in 1984