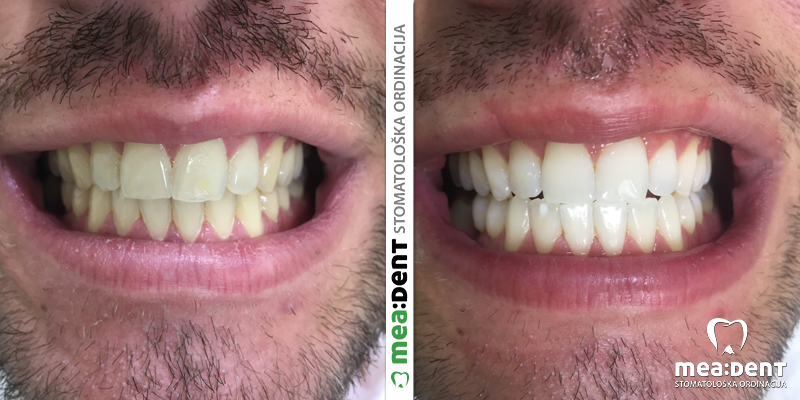 Ordinacijsko beljenje zuba
Pacijent N.K. rođen 1980. godine javio se u ordinaciju zbog izbeljivanja zuba. Pacijent nikada nije beleo zube, ali je zbog sve tamnije prebojenosti gleđi već duže vreme razmišljao da to uradi.
Nakon detaljnog objašnjenja procedure, kao i stručnim savetom u vezi sa potencijalnom prolaznom osetljivošću zuba nakon intervencije pacijent je odlučio da izbeli zube u ordinaciji uz pomoć posebne lampe za beljenje.
Nakon 3 posete pri čemu je svaka poseta trajala oko sat ipo vremena efekat je bio više nego zadovoljavajući, a pacijent prezadovoljan.
Postoji nekoliko dilema koje muče sve pacijente i mislimo da bi bilo pametno da to spomenemo.
Pojam "Laserskog" beljenja zuba je najčešće zloupotrebljen termin za ovu intervenciju. Svakako, beljenje laserom jeste moguće i to zaista postoji, ali vrlo malo broj ordinacija poseduje ovakav uređaj jer mu je cena jako visoka, a samim tim i beljenje zuba laserom ima visoku cenu. U 90% slučajeva radi se velikim širokim lampama sa dodatnim hlađenjem koje istovremeno polimerizuju pastu za beljenje na svim zubima. Tako se izbegava prebojenost zuba usled ovakve intervencije.
Problem broj 2 je što je svako nekada negde probao da beli zube, od kozmetičkog salona, preko "američkih folija" i domaćih preparata iz kućne radinosti. Savet je da se trudite da ne narušavate svoje zdravlje pogrešnim odlukama, jer je prisustvo stomatologa i kontrola dejstva preparata za beljenje neophodno. To su jaka sredstva koja mogu da značajno oštete desni i zube kada se ne koriste stručno.
Ukoliko su vaši zubi prirodno tamni, nisu lečeni (imaju živac), a pri tome nemaju puno plombi i lepog su oblika, metoda ordinacijskog beljenja je najbolje rešenje kojim ćete sigurno biti zadovoljni.
https://meadent.com/wp-content/uploads/2017/11/ordinacijsko_beljenje_3_posete_b1.jpg
400
800
Milos Potic
https://meadent.com/wp-content/uploads/2013/10/meadent-logo.png
Milos Potic
2017-11-07 11:45:46
2017-11-07 11:47:30
N.K. rođen 1980. godine