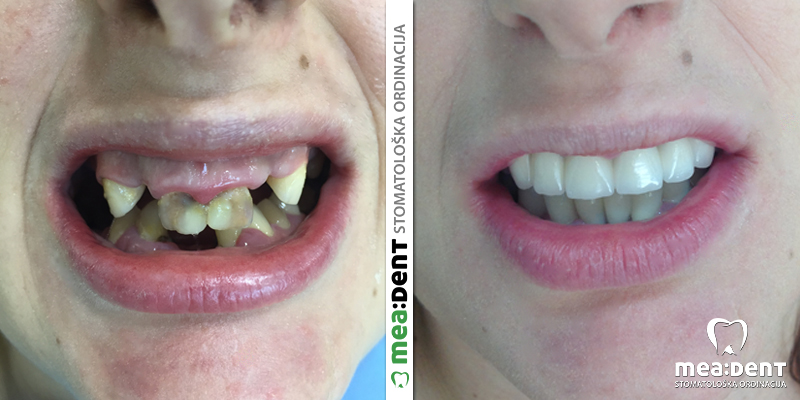 Metalokeramičke frezovane krune i vizil sa atečmenima
Pacijentkinja M.M. rođena 1986. godine javila se ordinaciju kako bi potražila savet i pomoć zbog vrlo komplikovanog stanja u kojoj su se našli svi njeni zubi u obe vilice. Parcijalna i neadekvatna rešenja godinama unazad, strah i vrlo nizak prag na bol, kao i zdravstveni problemi koje je prate godinama uticali su da pacijentkinja "uništi" svoje zube i dodatno naruši svoje zdravlje.
Genetski, zubi kod ove pacijentkinje imali su dosta slab kvalitet, ali je čitav niz faktora tokom njenog života uticao da sve izgleda mnogo gore nego što je trebalo.
U ovako zahtevnim rekonstrukcijama zuba i kompletnog osmeha najteže je promeniti navike pacijenta. Ako se to ne shvati kao glavni problem svega protetski rad nema mogućnost da traje u sredini koja se ne održava. Dugotrajna objašnjenja o načinu održavanja higijene nakon završetka protetskog rada, upoznavanje sa raznim aparatima za irigaciju (pranje) krunica i mostova, informacije o novim pastama za zube , koncima, interdentalnim četkicama i četkicama za proteze na pacijentkinju su delovali jako stimulativno.
Na osnovu ortopan snimka morali smo da donesemo teške odluke. Bilo je neophodno izvaditi čak 14 zuba koji su uglavnom bili slomljeni do nivoa desni. Zbog tolikog nedostatka zuba bočno zagrižaj pacijentkinje je potpuno bio izgubljen. Morali smo da ga podignemo i izvežbamo njene mišiće na novu visinu zagrižaja, kako nakon predaje rada ne bi osećala bolove u zglobovima.
Dodatni problem u donjoj vilici bila je pozicija svih donjih zuba koji su bili inklirani (nagnuti) ka jeziku. To nam je pravilo probleme i tamo gde smo mogli zubi su postavljeni u protezi u normalnoj klasi zagrižaja, a tamo gde nije moglo postavljeni su u obrnut preklop. Neke zube bilo je potrebno izlečiti i ojačati livenim nadogradnjama kako bi se nosači mogli ojačati.
Krunicama i protezama smo podigli zagrižaj bočno kako bi sada pacijentkinja imala simetričan izgled lica i kako joj se tako mladoj ne bi pravile bore.
Urađena su dva kombinovana rada. U gornjoj vilici most od 8 krunica i vizil proteza sa atačmenima, a takođe isto to i u donjoj.
Naizgled, jednostavno, ali kod ove pacijentkinje dodatni veliki problem bio je izuzetno nizak prag na bol. Nijedna, pa i najmanja intervencija dodirivanja desni nije mogla da prođe bez davanja anestezije pri čemu treba napomenuti da ni davanje anestezije ne može proći potpuno bezbolno. Pogotovo kada je rad u završnim fazama kada su desni umorne od proba.
Ali, uprkos svemu, pacijentkinja je rešila da ovoga puta izdrži do konačnog završetka i novog lepog osmeha.
Na kraju bila je presrećna kada je ugledala svoj novi osmeh i nije prestajala da se slika. U danima koji slede videćemo se s njom još na kontrolama kako bi nam saopštila svoje utiske.
Ukoliko imate sličnih problema mi vam možemo pomoći.
https://meadent.com/wp-content/uploads/2017/11/metalokeramika_krunice_mostovi_vizil_atačmeni_proteza_gamy_smile.jpg
400
800
Milos Potic
https://meadent.com/wp-content/uploads/2013/10/meadent-logo.png
Milos Potic
2017-11-07 11:32:16
2017-11-07 11:35:20
M.M. rođena 1986. godine