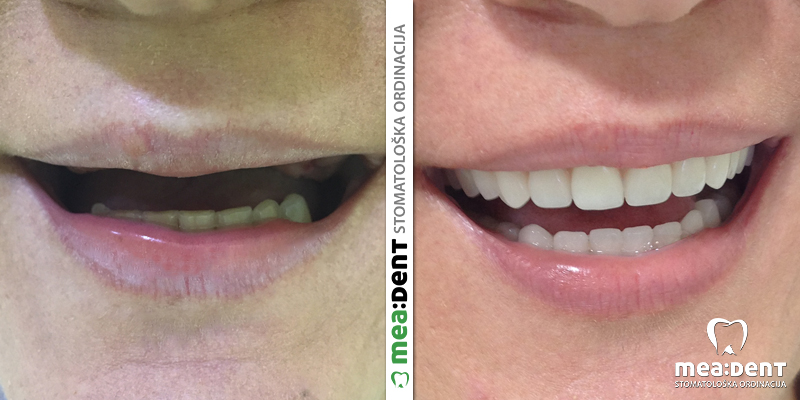 Totalna proteza i vizil sa atečmenima | M.Z. 53 godine
Gornja totalna proteza i donji vizil sa atečmenima
Pacijentkinja M.Z. rođena 1965. javila se u ordinaciju zbog potpuno lošeg stanja zuba u gornjoj vilici i nedostatka svih donjih bočnih zuba. Gornji zubi su praktično bili potpuno rasklaćeni od parodontopatije i apsolutno ništa nije bilo moguće uraditi kako bi se oni sačuvali. Pacijentkinja, lepa dama srednjih godina nam se nasmejala i bilo je potpuno jasno zašto je njeni zubi čine nesrećnom. Jako je želela promenu.
Dijagnoza
Na osnovu snimaka 3d i ortopana objasnili smo da bi za nju idealni bili implanti i rad na implantima. U ovakvim situacijama dok imamo još uvek dosta kosti to je idealno rešenje, pogotovo ako je gubitak zuba usledio zbog parodontopatije. Ona je to odbila iz privatnih razloga i morali smo da pronađemo isto tako lepo i funkcionalno rešenje.
Protetski rad
U gornjoj vilici nakon vađenja nekoliko preostalih zuba odlučili smo da uradimo totalnu protezu sa najkvalitetnijim Vita petoslojnim zubima. U donjoj vilici pacijentkinja je imala svojih 6 zuba u prednjoj regiji, dok bočno nije imala nijedan zub. Pravo je pitanje, kako je uopšte mogla da jede? Odgovor ne postoji u knjigama, već samo u tome na šta je čovek sve spreman i našta sve može da se navikne. Ona je ipak odlučila da ne ide linijom manjeg otpora i želela je da to promenimo.
U donjoj vilici uradili smo metalokeramički most od 6 kruna i vizil protezu sa parom atačmena. Ovakav rad je učinio da osmeh bude savršen, da ne postoje nikakve kukice koje bi se videle kad se smeje. Žuljanje i spadanje proteze praktično ne postoje.
S obzirom da naša pacijentkinja nikada nije nosila proteze jako je bila brza u navikavanju i savladavanju prepreka prilikom jela i govora. Svaka čast na tome.
Ono što uvek ističemo prilikom predaje totalne proteze jeste da ako pacijent u narednih 3 noći uspe da prespava sa protezom u ustima praktično neće nikada imati problema sa navikavanjem. Inače savetujemo da se proteza noću odloži na sigurno mesto pogotovo kod pacijenata koji noću stiskaju zube. To kod naše pacijentkinje nije bio slučaj, pa je ona sa njom mogla i da spava.
Na kraju njen osmeh je sve rekao, bila je baš srećna i zadovoljna.
https://meadent.com/wp-content/uploads/2018/09/totalna-b1-krunice-metalokeramicki-most-vizil-atacmeni-drikeri-prirodno.jpg
400
800
Milos Potic
https://meadent.com/wp-content/uploads/2013/10/meadent-logo.png
Milos Potic
2018-09-21 12:04:34
2018-12-05 12:32:25
Totalna proteza i vizil sa atečmenima | M.Z. 53 godine