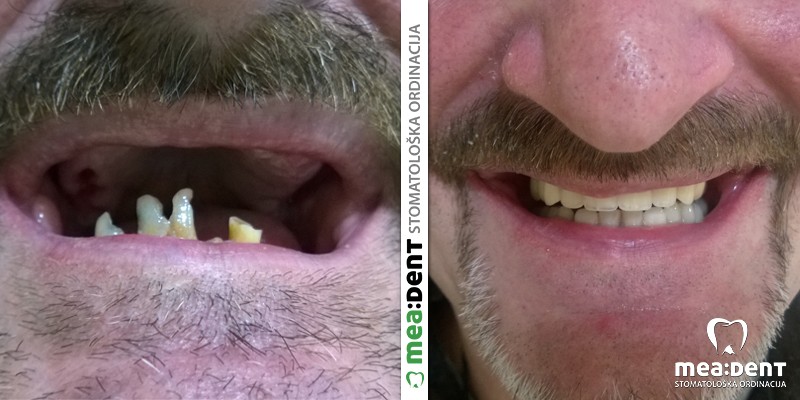 Gornja totalna proteza i donja vizil proteza sa prečkom
Pacijent F.Č. rođen 1956. godine javlja se zbog hroničnog problema nedostatka većeg broja zuba u obe vilice. Pacijent se otežano hranio, bilo mu je skoro nemoguće da usitni hranu ,pa je samim tim počeo da oseća i bolove u želucu. Strah od stomatologa potpuno ga je blokirao, stavio funkciju i estetiku, a pre svega zdravlje u drugi plan. Nakon više godina pacijent je odlučio da uradi kompletnu rekonstrukciju obe vilice.
U prvim posetama, uz pomoć anestezije sa jačim dejstvom, pacijentu su izvađeni brojni zaostali zalomljeni korenovi koji nisu mogli biti iskorišćeni u budućem radu. Tako da je gornja vilica nakon svega 3 posete i vađenja zuba postala indikovana za izradu totalne proteze. Anatomija gornje vilice zbog pokretnih grebenova, nepodminiranosti (nezakošenosti) grebena i plitkog nepca nije obećavala da proteza može stabilno da stoji,ali je posebna pažnja poklonjenja formiranju rubova kašike koja odgovara samo pacijentu i uzimanja funkcionalnog otiska koji je bio od suštinske važnosti. Na ovoj protezi vakuum je ostao jedini faktor za stabilnost, jer anatomija nije radila za nas. Za sve koji žele da nauče nešto novo, funkcionalni otisak je otisak vilice u žvakanju, smejanju, širenju usana, tj. u svim onim situacijama u realnom životu u kojima ćete se naći. Zato vam proteza neće spadati kada je uradite, zbog maksimalno preciznog funkcionalnog otiska.
U donjoj vilici pacijent je imao nekoliko zuba za vađenje i 3 zuba u idealnom rasporedu za izradu Dolder prečke sa 3 metalokeramičke krune, nakon čega bi na tom radu bila izrađena vizil proteza sa parom atačmena. 3 zuba u donjoj vilici su izlečena i pripremljena nadogradnjama i brušenjem za otisak. Takođe, njihova prisutnost u velikoj meri doprinela je stabilnosti donje proteze i pacijent nije mogao da pomera protezu jezikom.
Na kraju svega, urađena je totalna proteza u gornjoj vilici , a u donjoj vilici kombinovani rad- Dolder prečke sa 3 krunice i vizil protezom sa atačmenima. Boja zuba je A2.
Malo praktičnih saveta: Imate veliki broj zuba koji su pukli, ostalo vam je mnogo zalomljenih korenova i plašite se koliko će to biti teško za vađenje. U našoj ordinaciji potpuno bezbolno uz anesteziju veće koncentracije sigurno možete izvaditi svaki zub koji je za to i indikovan, bez odlaska na velike klinike koje same po sebi stvaraju strah. Svaki slomljeni truli zub pravi je bombarder vaših zglobova, srca, jetre i bubrega. Problem je u tome što vi ne osećate da vas nešto akutno boli, ali se hroničnim oslobađenjem bakterija iz tih zuba vaše zdravlje postepeno pogoršava iz dana u dan. Odreagujte na vreme. Odmah.
https://meadent.com/wp-content/uploads/2015/03/gornja-totalna-proteza-krune-precka-vizil-atecmeni.jpg
400
800
Milos Potic
https://meadent.com/wp-content/uploads/2013/10/meadent-logo.png
Milos Potic
2015-03-29 10:22:44
2015-03-29 10:25:03
F.Č. rođen 1956. godine