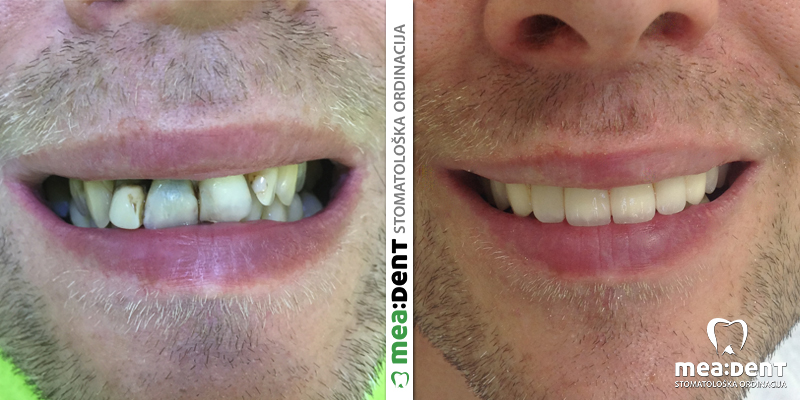 Bezmetalni most na prednjim zubima i metalokeramički mostovi na bočnim zubima
Pacijent I.Đ. rođen 1972. godine javlja se zbog estetskog i funkcionalnog problema zuba u obe vilice. Prisustvo aktivnog procesa na desnoj dvojci, destrukcija koštane mase oko desnog centralnog (prvog) i drugog sekutića, neadekvatan izgled i položaj svih zuba u obe vilice, kao i nekoliko ozbiljnih kvarova , naterali su pacijenta da nam se obrati i pored velikog straha koji ga je svaki put obuzimao pri pomisli na stomatološku intervenciju.
Mnogo napisanih mailova, telefonskih poziva i objašnjenja bili su potrebni da pacijent postane opušten i shvati šta je sve potrebno od intervencija uraditi kako bi se njegov osmeh doveo u estetski i funkcionalno lepo stanje.
U gornjoj vilici bilo je potrebno izvaditi desnu dvojku, a zatim podići kompletno tkivo i obraditi korenski deo desnog centralnog sekutića. Nakon završenog čišćenja uradili smo režanj operaciju datog regiona uz dodatat fibrinskog APRF transplantata mešanog sa veštačkom kosti. Nakon te intervencije primenili smo injekcionu iPRF metodu pri čemu smo dobili brzo stezanje granula radi lakšeg oblikovanja buduće kosti.
Defekt koji je postojao zbog lošeg stanja u kojem je bila desna dvojka nije bio mali, pa je bila neophodna upotreba više membrana fibrinskog transplantata. Nakon što je rana lepo ušivena izradili smo pacijentu cad cam privremeni zaštitini most od 6 krunica , kako bi pustili 2 meseca da rana pravilno zaraste za definitivni rad.
Nakon 2 meseca nastavljeno je lečenje nekih bočnih zuba i izrađene nadogradnje tamo gde je to bilo potrebno. Uzet je otisak i izrađeno je 6 metalokeramičkih krunica u gornjoj vilici obostrano bočno i 6 bezmetalnih krunica u gornjoj vilici napred.
Što se tiče donje vilice, ona je još u procesu izrade, ali je pacijent zamolio da to uradimo krajem leta, jer je sad hteo malo da uživa u svom novom osmehu i da se odmori.
Puno pozitivnih komentara pobrao je u svom društvu nakon završetka, ali što je najvažnije, on je bio oduševljen ostvarenim.
Ukoliko i vi imate sličnih problema možemo vam pomoći.

https://meadent.com/wp-content/uploads/2017/10/bezmetalne_krunice_-prf_rezanj_operacija_cirkonijum_estetika_hollywood.jpg
400
800
Milos Potic
https://meadent.com/wp-content/uploads/2013/10/meadent-logo.png
Milos Potic
2017-10-11 12:42:26
2017-10-23 13:51:27
I.Đ. rođen 1972. godine