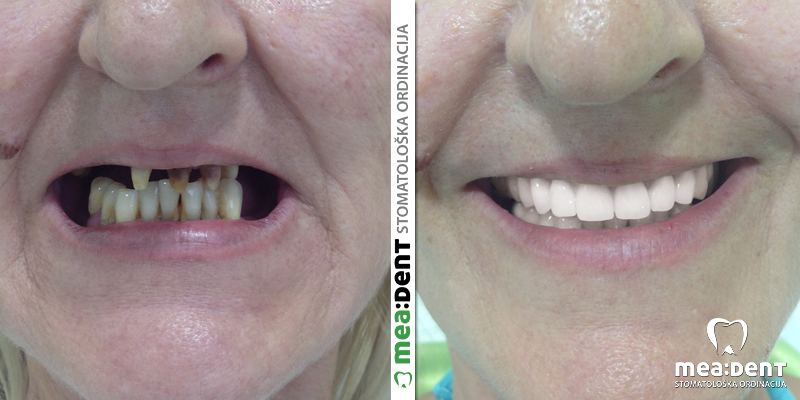 Krunice i vizil sa atečmenima | D.M. 54 godine
Pacijentkinja D.M. rođena 1964. godine javila se u ordinaciju sa već unapred izbrušenim zubima i bez zaštitnih krunica. Vidno uznemirena i razočarana je došla sa obrazloženjem da "tamo gde je počela da radi zube hteli su da joj predaju džinovske krunice". Došla je kod nas sa osetljivim desnima koje su se potpuno vratile na brušeni zub. Sami zubi je nisu boleli jer su svi izlečeni. Pacijentkinja je imala veliki broj pitanja i bila je značajno nepoverljiva, jer nije verovala da će se ova situacija povoljno završiti po nju.

Dijagnoza
U ovakvom slučaju svakako se mora krenuti iz početka. Analizom ortopan digitalnog snimka došli smo do sledećih zaključaka. Pacijentkinja je imala samo prednje zube u gornjoj vilici i jedan bočni zub sa desne strane. Problem za estetiku je bila desna jedinica koja se nalazila tačno na sredini lica, tačnije na sredini linije koja prolazi kroz centar korena nosa. To je otežavajuća okolnost za dobijanje iste sredine gornjeg i donjeg zubnog niza. Tehnika je maksimalno, koliko je to fizički bilo moguće, pomerila sredinu celog rada za 2mm udesno.
Protetski rad
U gornjoj vilici, s obzirom da pacijentkinja nije želela implante odlučili smo se kombinovani rad, metalokeramički most od 6 kruna i vizil proteze sa atačmenima. Na desnoj strani bočno proteza se takođe zaključavala sa poslednjim zubom na kome smo uradili frezovanu metalokeramičku krunicu. Bilo je važno pogoditi boju akrilatnih zuba, u odnosu na boju keramike jer je to uvek izazov kad je prvi zub u protezi lociran napred. Onda postoji opasnost od greške u boji. Naša tehnika sastavljena je od preko 8 tehničara i pre nego što rad stigne za predaju u ordinaciju analizira ga veći broj stručnih očiju.
U donjoj vilici smo očistili sve zube od kamenca i u prvom trenutku odlučili da ne radimo ništa za početak. Boja zuba je bila dobra, oblik smo mogli malo da modifikujemo selektivnim brušenjem, ali ipak na kraju kada je pacijentkinja videla gornje zube odlučila je da uradi i donje. Urađen je isti rad sa malo više zuba nosača u okviru mosta.
Na kraju kada smo sve završili i pacijentkinji predali zube ona je bila oduševljena i neprestano se smejala, a čak je odlučila da doktora koji joj je radio rad zagrli. To nam je na kraju bila pohvala koja je puno značila.
https://meadent.com/wp-content/uploads/2019/02/keramika_krunice_b1_vizil_atacmeni_drikeri_klik_cirkularac.png
400
800
Milos Potic
https://meadent.com/wp-content/uploads/2013/10/meadent-logo.png
Milos Potic
2019-02-15 08:34:43
2019-02-15 08:39:26
Krunice i vizil sa atečmenima | D.M. 54 godine