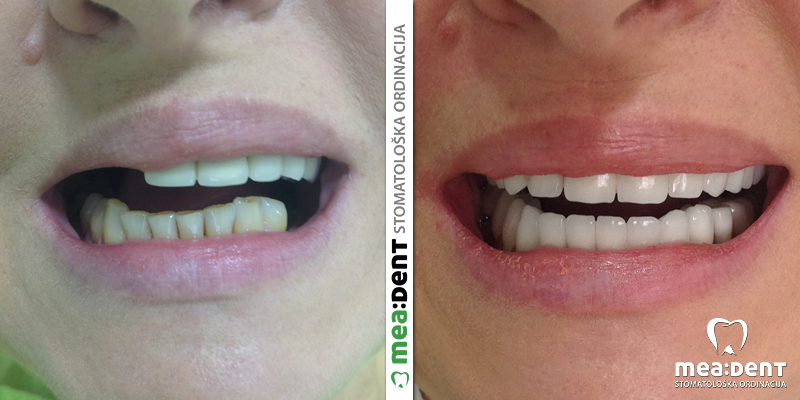 Vizil sa atečmenima | S.I. 51 godina
Pacijentkinja S.I. rođena 1967. dolazi u ordinaciju zbog višegodišnjeg problema sa zubima obe vilice. Parcijalna rešenja u nekoliko stomatoloških ordinacija u periodu od 5 godina, kao i nemogućnost da finansijski isprati sve protetske radove doveli su do toga da pacijentkinja ima veliki problem sa zagrižajem i krivom griznom površinom, pa je delovalo kao da su njena usta kriva, a proteza gornja je spadala neprestano i nije odgovarala stanju u ustima.

Dijagnoza
Kako se dobija ovakva grizna ravan? Uzmemo za primer da ste odlučili da nadoknadite zube iz gornje vilice, ali da ne radite ništa sa zubima iz donje vilice koji su isplivali u gornji zubni niz. Da bi tehničar to mogao da izvede, a vi normalno jedete potrebno je da most napravi prema nepravilnom položaju donjih zuba, pa samim tim dobijate krivu griznu ravan. Ona je možda dobra za žvakanje, ali estetski to je jako pogrešno rešenje. Onda posle nekoliko meseci odlučite da ipak uradite donje zube, pa ih tehničar opet pravi prema krivo napravljenim gornjim zubima. Sve u svemu trošite i svoje vreme i bacate novac,a trebalo je da terapiji pristupite kroz kompletnu rekonstrukciju, posebno onda kada je zagrižaj komplikovan kao kod ove pacijentkinje.
Ona je ipak odlučila da istovremeno uradi zube obe vilice i izradi proteze koje bi bile nošene zubima. Kod nje je došlo do poremećaja griznih površina zbog nezgodnog tipa nedostatka zuba, tj. jednostrano prekinutog zubnog niza, ali na suprotnim stranama gornje i donje vilice. U gornjoj vilici pacijentkinja nije imala nijedan zub posle desnog drugog sekutića, a u donjoj nijedan zub posle levog očnjaka. Implante nije želela da radi iako je imala mesta za iste.

Protetski rad
Urađena je priprema i lečenje svih zuba koji su za to bili indikovani. Urađeni su metalokeramički mostovi u obe vilice sa ležištima za proteze. Postavljeni su najkvalitetniji Vita petoslojni zubi kako bi sve izgledalo mnogo prirodnije kada se pacijentkinja nasmeje. Takođe, tehničari su dali sve od sebe da vrate sredine zubnih nizova što bliže sredini lica. To nije bilo moguće dovesti u idealnu formaciju,ali je svakako drastično poboljšano.
Na kraju pacijentkinja je bila prezadovoljna izgledom i oblikom zuba. Proteze u obe vilice bile su izuzetno stabilne i čvrste,a grizna ravan konačno je odgovarala usnama i izgledu lica. Nakon svega, ni relacija Kragujevac – Beograd nije joj predstavljala prepreku da stigne do konačnog cilja. Naš trud se isplatio. Njen osmeh sve je na kraju zaokružio. 
https://meadent.com/wp-content/uploads/2019/02/vizil-drikeri-mostovi-atačmeni-proteze-klik-b1.jpg
400
800
Milos Potic
https://meadent.com/wp-content/uploads/2013/10/meadent-logo.png
Milos Potic
2019-02-15 07:58:43
2019-02-15 07:58:43
Vizil sa atečmenima | S.I. 51 godina