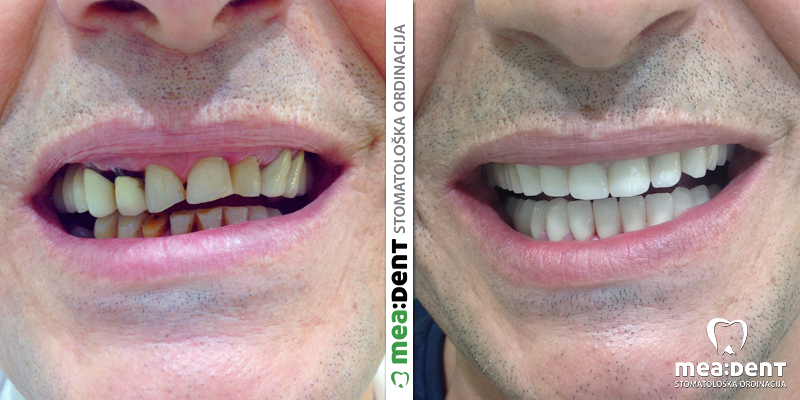 Dva cirkularna metalokeramička mosta | N.P. 51 godina
Pacijent N.P. rođen 1967. godine javlja se zbog estetskog i funkcionalnog problema svih zuba u obe vilice. Stari mostovi koji odavno više ne izgledaju adekvatno, neadekvatna higijena i noćno škripanje zubima doveli su do potpunog pogoršanja stanja u ustima. Pacijent više nije mogao da to gleda i na nagovor svoje devojke odlučio se da skupi hrabrost i napravi iskorak.
Dijagnoza
Kada dovedu zube u ovu situaciju pacijenti se često ustručavaju da dođu kod stomatologa i glavni izgovor pored straha je i sramota. Ono što treba da shvatite ukoliko ste bivši, sadašnji ili potencijalni budući pacijent da vas u Meadentu niko neće osuđivati, jer ste vi sigurno sebe ranije osudili zbog stanja zuba u kome ste se našli. Zato ste kod nas došli da zatražite stručnu pomoć i lekarski tim, zajedno sa odličnim timom tehničara za vas će naći najbolje i najlepše rešenje.
Protetski rad
Pacijent je u ovom slučaju želeo parcijalna rešenja, pre svega iz finansijskog razloga. Ali, to nije bilo moguće. Nosači starih mostova bili su problematični, neke zube je trebalo izlečiti i ojačati nadogradnjama, a abrazija koje je bila izražena onemogućila je parcijalno rešenje jer je zagrižaj trebalo podići 2-3 mm.
Na kraju, izradili smo 2 cirkularna metalokeramička mosta u obe vilice iz nekoliko blokova, u lepoj b1 najprirodnijoj beloj boji.
Pacijent je bio hrabar i poprilično iznenađen jer je očekivao da će ga sve boleti za vreme i nakon intervencije. S obzirom da se danas anestezija podrazumeva i ne dovodi u pitanje tako su i intervencije brušenja i otiskivanja zuba prošle bez problema.
Standardni saveti koje pacijenti dobijaju nakon brušenja su da se odmore, popiju neki analgetik, koriste mlaki čaj od žalfije kako bi oporavili desni i povremeno utrljavaju sredstva koja prijaju desnima. Zubi ne smeju pulsirati nakon brušenja, ali ako se to desi svakako treba se obratiti stomatologu.
https://meadent.com/wp-content/uploads/2019/02/cirkularac-metalokeramika-mostovi-b1-stari-mostovi.jpg
400
800
Milos Potic
https://meadent.com/wp-content/uploads/2013/10/meadent-logo.png
Milos Potic
2019-02-15 08:09:22
2019-02-15 08:11:15
Dva cirkularna metalokeramička mosta | N.P. 51 godina