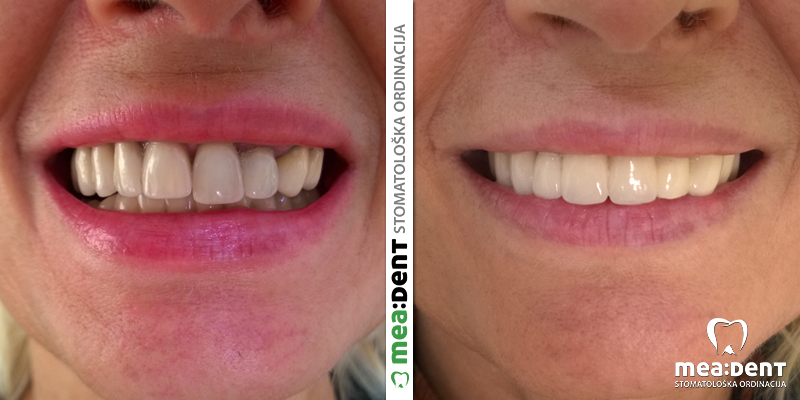 Metalokeramički mostovi na prednjim i bočnim zubima (Boja A2)
Pacijent V.S. rođena 1955. godine javlja se zbog problema koji su nastali nakon pucanja starog metalokermičkog mosta i pucanja pojedinih zuba nosača u bočnoj regiji. Pacijentkinja je teško mogla da jede, imajući probleme kako sa estetikom, tako i pri izgovoru pojedinih glasova.Takođe, nije bila zadovoljna bojom zuba, veličinom i oblikom pojedinih članova starog mosta. U donjoj vilici pacijentkinji su nedostajali zubi u bočnom segmentu i tu je takođe želela da reši problem.
Zbog posla kojim se bavi i stalnim kontaktom sa klijentima estetika je bila vrlo važna, pa su tako i sama lečenja i pripreme zuba za novi protetski rad zahtevali lečenje kroz krunice što je predstavljalo otežavajuću okolnost, ali i izazov za preciznost lečenja. Koristili smo posebne uređaje za lečenje kanala korena, apeks lokator koji precizno elektronski meri tačnu dužinu kanala,ali i endomate proširivač koji uz manji broj obrtaja i specijalno dizajnirane fleksibilne iglice širi kanale kako bi punjenje istih bilo što preciznije i imalo formu levka. Pojedine zube trebalo je izvaditi pre svega u bočnom semgmentu kako ne bi ometali izradu proteze u okviru kombinovanog rada.
Nakon mesec dana od vađenja svih zuba koji su za to bili indikovani, kao i endodontske pripreme kanala kroz krunice, pristupili smo protetskom radu. Skinuto je 12 starih metalokeramičkih krunica u gornjoj vilici i 6 metalokeramičkih krunica u donjoj vilici. U roku od jednog dana izrađene su nadogradnje od srebra na svim zubima gde je urađeno lečenje kako bi se budući nosači značajno ojačali za nošenje protetskog rada. Urađeno je brušenje svih 12 zuba u gornjoj vilici gde smo najviše obratili pažnju na brušenje ispod desni jer je kod starog protetskog rada to bio jedan od najvećih problema.
Pošto je rad u gornjoj vilici bio kombinovan, a to znači da je pored metalokeramičkog mosta planirana i vizil proteza sa atačmenima kako bi se bočni zubi nadoknadili pristupili smo i izradi proteze. U donjoj vilici situacija je bila jednostavnija i tu je bilo potrebno samo adekvatno uraditi novi most.
Na kraju kada je sve cementirano pacijentkinja je bila vrlo zadovoljna, desni su svuda odlično prešle preko keramičkih krunica, zubi su brušenjem smanjeni nekoliko milimetara kako bi protetika mogla da ima svoju formu, a pacijentkinja je obučena i informisana kako da održava svoju higijenu od sada jer cementiranje ovolikog rada to je zahtevalo.
Nešto potpuno novo u Mea:Dentu jeste da dajemo garanciju od 5 godina na protetski rad,ali se ta garancija automatski produžava dolaskom na redovne kontrole na svakih 6 meseci. Ukoliko odlučite da vam kontrole nisu neophodne i mi ne budemo u mogućnosti da ustanovimo koliko je kvalitetna vaša higijena usta i zuba ispod mosta,ne možemo garantovati za vas rad više od 5 godina.
Ukoliko imate sličan problem sa mostom koji ste ranije izradili, ne sviđa vam se boja, oblik, vaša keramika je pukla, javite nam se. Vaš Mea:Dent
https://meadent.com/wp-content/uploads/2014/10/keramicke-krunice-boja-a2-cirkularni-most-skeletiranaproteza-bocni-zubi.jpg
400
800
Milos Potic
https://meadent.com/wp-content/uploads/2013/10/meadent-logo.png
Milos Potic
2014-10-28 22:05:49
2015-01-06 08:43:39
V.S. rođena 1955. godine