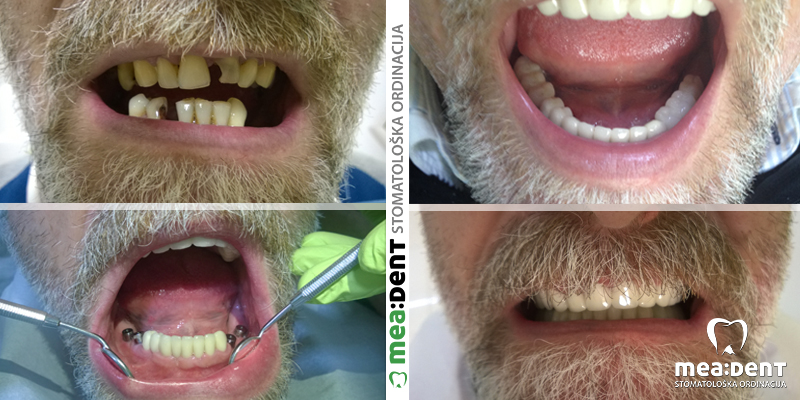 Implanti i metalokeramičke krune (boja B1)
Pacijent S.B. rođen 1964. godine javlja se zbog sanacije kompletnog stanja zuba u obe vilice. Višegodišnji strah od stomatološke intervencije, prethodna loša iskustva, ali i sama pomisao na zubara i nelagodnost koju pri tome oseća doveli su pacijenta do izuzetno lošeg zdravstvenog stanja kako zuba, tako i celog organizma. Bilo je neophodno pristupiti globalnom rešavanju problema.
U gornjoj vilici pacijent je imao više svojih zuba u prednjem nego u bočnom regionu. Svi preostali zubi, koji su planom terapije značajni za nošenje budućeg rada, morali su biti precizno izlečeni. Zubi čiji su korenovi na ortopan tomografskom snimku pokazivali znake infekcije u kosti ili nepostojanje tvrde zubne supstance u predelu krunice( napomena: ako nemate dovoljno zdrave zubne supstance ne možete izraditi nadogradnju i ojačati zub) bili su indikovani za vađenje.
U donjoj vilici pacijent se odlučio za ugradnju 4 implantata, po 2 bočno u obe strane donje vilice, a na osnovu prethodno dobro analiziranog 3d snimka od strane višebrojnog lekarskog tima. Nakon ugradnje kvalitetnih implantata američke firme Biohorizons pacijent je morao da sačeka 3 meseca da bi smo mu izradili krunice na implantima. Kada je u pitanju prednji region tu je, kao i gornjoj vilici, bilo potrebno izraditi metalokeramički most u bloku. Prethodno bilo je potrebno izlečiti sve zube koji će učestvovati u mostu, a takođe izvaditi zaostale korenove.
Na kraju, u gornjoj vilici izrađena su 3 metalokeramička mosta, 2 bočno i 1 napred, a u donjoj vilici izrađen je metalokeramički most u bloku u prednjem regionu i bočno po 2 metalokeramička mosta na implantima.
Rezultat svega na kraju je odličan izgled, sjajna funkcija i zadovoljan pacijent. Ono što je zanimljiv podatak jeste da je pacijent za bukvalno svaku intervenciju koliko god ona bila bezazlena primio anesteziju. Na kraju sve je ispalo odlično, ali je put do savršenog osmeha trajao tačno 5 meseci .
Ugradnjom implanata postižete da vaši susedni zubi ne budu brušeni i što duže traju onakvi kakvi su. Ugradnja implantata je jednostavna procedura u trajanju od 45 minuta i najvažnije od svega je da apsolutno ništa ne boli. To ne kažemo zato što želimo da ulepšamo ovaj tekst, već je to potpuna istina. Anestetik koji se daje je u koncentraciji od 4%, duplo jačoj koncentraciji od regularne tako da su i najplašljiviji pacijenti potpuno bezbedni u našim rukama.
Ako u ovom opisu prepoznajete svoj problem ili problem nekog iz vama bliskog okruženja javite nam se i pomoćićemo vam da sve prođe bezbolno i uz minimum psihološke traume. Za pacijente sa velikim strahom imamo i posebnu metodu …Kafica sa mlekom u prijatnom okruženju čekaonice uz ćaskanje sa doktorima.

https://meadent.com/wp-content/uploads/2015/05/implanti-ugradnja-protetika-cirkularni-most-b1.jpg
400
800
Milos Potic
https://meadent.com/wp-content/uploads/2013/10/meadent-logo.png
Milos Potic
2015-05-17 07:32:14
2015-05-17 07:32:14
S.B. rođen 1964. godine