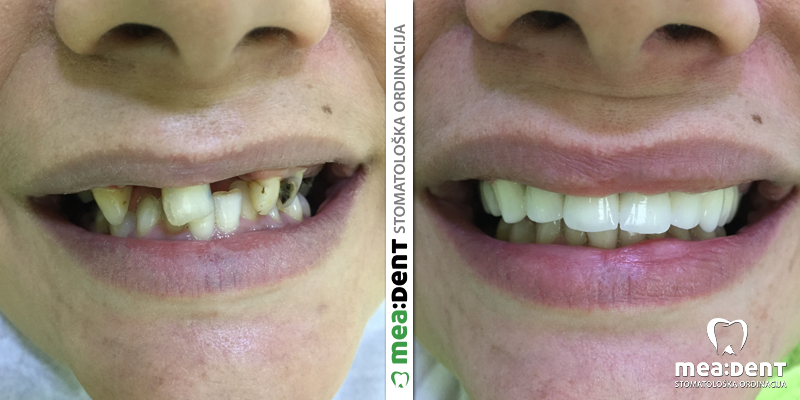 Pacijentkinja J.Đ. rođena 1978. godine javila se u ordinaciju jer "više nije mogla da podnese situaciju u ustima". Otok iznad desne trojke i bolovi bili su kap koja je prelila čašu. Godine straha od stomatoloških intervencija, trudnoća i obaveze koje nakon porođaja slede, genetika koja joj nimalo nije bila naklonjenja samo su neki od razloga zašto su zubi ovako stradali.
Potpuno sama i bez ikakve preporuke otišla je na Google i pronašla nekoliko ordinacija. Išla je na nekoliko mesta slušajući savete, postavljane dijagnoze i date terapije, ali na kraju se odlučila da joj Meadent ordinacija bude poslednja stanica. Pacijentkinja ne živi blizu i svaki dolazak zahteva finansijski i vremenski trošak, ali je njena odlučnost bila daleko jača od ovih otežavajućih faktora.
Objašnjen joj je detaljan plan rada uz vrlo opušten i neagrisavn pristup stomatologa čime je uspostavljeno poverenje, ključna karika za izradu ovakvog rada. Pacijentkinja je bila izuzetno rešena da "održava svoje zube bolje nego ikada nakon što konačno dobije lep osmeh" . Nabavila je električne aparate za higijenu i bezrezervno prihvatila naše stručne savete.
Bilo je potrebno izvaditi šest zalomljenih korenova u gornjoj vilici, uraditi tri lečenja preostalih zuba i pojedine zube ojačati nadogradnjama, ali najveći problem zadavala nam je trojka gangrenozno inficirana koja je stvorila proces u kosti koji nikako nije hteo da se smiri. Ovaj zub bio je strateški važan za protetiku, ali vrlo nesiguran.
Na kraju smo odlučili da uradimo apikotomiju nakon niza aplikacija lekova u zub i vizuelno pristupimo zoni infekcije. Kiretaža je urađena, cistična formacija uklonjena, ceo prostor dobro mehanički i hemijski obrađen i aplikovana veštačka kost u zonu rane. Nakon 7 dana svi bolovi su prestali, rana primarno zarasla i zub je bio spreman. SAVET: Ukoliko radite apikotomiju i zub treba da podnese solo krunu savetujemo da to ne radite najmanje 3 meseca nakon intervencije. Ovaj zub je bio sam jedan od niza zuba koji su služili kao nosači mosta pa je pritisak bio pravilno raspoređen na više zuba.
Na kraju , urađen je metalokeramički cirkularni most od 12 krunica u najprirodnijoj svetloj nijansi B1. Osmeh pacijentkinje je istog momenta postao mnogo lepši, a ona vrlo zadovoljna. Čekajući reakciju sopstvenih ukućana strepela je jer dugo nije imala takve zube, tačnije od momenta kada je bila devojka. Kada je došla na kontrolu rekla je da su svi "oduševljeni kako sada izgleda". To je bilo lepo priznanje za trud koji smo uložili.
Sada je samo trebalo detaljno bavljenje higijenom. Svako veče prati zube četkicom, koristiti električni irigator za ispiranje, a ujutru tečnost za ispiranje. To je jedini način da rad dugo opstane i pacijentkinja ima lepe i zdrave desni i zube nosače.
https://meadent.com/wp-content/uploads/2017/01/cirkularni_most_lečenje_zuba_destrukcija.jpg
400
800
Milos Potic
https://meadent.com/wp-content/uploads/2013/10/meadent-logo.png
Milos Potic
2017-01-31 16:10:40
2017-01-31 16:10:40
J.Đ. rođena 1978. godine