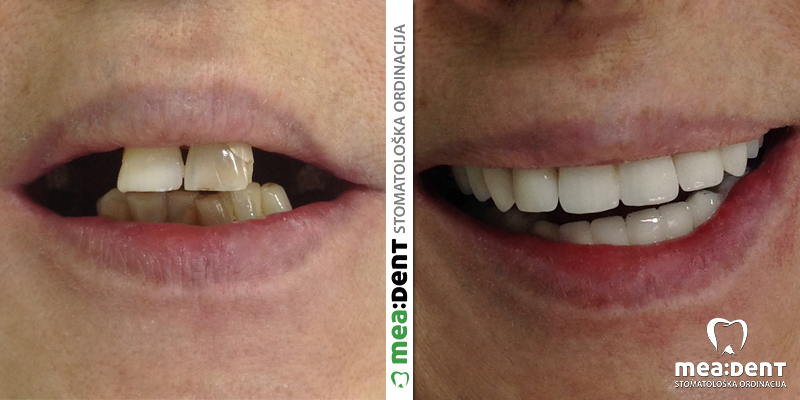 Frezovane krune i proteze sa atečmenima | L.S. 58 godina
Pacijentkinja L.S. rođena 1960. godine javila se u ordinaciju zbog toga što su pojedini zubi nosači starih mostova pukli sa obe strane gornje vilice i pacijentkinja je morala da ukloni kako stare mostove tako i korenove zuba koji su preostali jer su bili u izuzetno lošem stanju. U donjoj vilici pacijentkinja je imala samo svojih 8 prednjih zuba i ništa od zuba u bočnoj regiji.
Dijagnoza
Nakon analize njenog kompletnog zdravstvenog stanja morali smo odustati od ideje implanata. Naime, pacijentkinja je bila vrlo težak kardiološki pacijent, izuzetno mršave konstitucije, sa alergijama na veći broj lekova i supstanci, pa smo morali biti izuzetno oprezno prilikom rada. Takođe, konstantni bolovi u želucu i epizode kada bi jedva imala snage da uđe u ordinaciju činili su da naš plan terapije bude efikasan i potpuno prilagođen njenim potrebama, jer da je drugačije bilo , nikada ne bi mogla da izdrži fizički sve što smo radili.
Nakon što joj je predočeno koliko će tačno puta morati da dođe u ordinaciju, kao i vreme potrebno da joj se urade obe vilice pacijentkinja je odlučila da nam ukaže poverenje.
Protetski rad
Odlučili smo da 4 idealno simetrično raspoređena zuba u gornjoj vilici uključimo u kombinovani rad. 4 metalokeramičke frezovane krune sa ležištima za protezu i sistem atačmena kojim se proteza dodatno kači na zube učinili su da se pritisak ravnomerno rasporedi na 4 tačke i proteza postane udobna i stabilna.
Najveći izazov zbog izbačenosti gornjih prednjih zuba imali smo u postavci akrilatnih zuba u protezu, jer su se pored njih nalazili keramički zubi. Kada je taj spoj u bočnoj regiji to i nije preveliki problem, ali kada se spoj mora napraviti napred onda je to jako zahtevno i na našu i njenu sreću mi smo to uspeli.
U donjoj vilici pacijentkinji smo izradili identičan rad sa mnogo više preostalih zuba koji su u dobrom stanju. Metalokeramički most od 8 krunica i vizil protezu sa atačmenima (drikerima) koju većina pacijenata poznaje kao "protezu na klik".
Nakon 21 dana terapija je završena i pacijentkinja dobila zube baš kakve je sanjala. Proces prilagođavanja bio joj je za nijansu teži nego drugim pacijentima. Ali za nekih 2 nedelje ona se potpuno navikla i sada spava sa protezama bez ikakvih problema. Trudi se da održava pravilnu higijenu i mnogo češće se smeje.
Mi joj samo još jednom želimo. Da je zdravlje od sada mnogo bolje služi. I još nešto što retko spomenemo, ali ovog puta moramo. Svaka čast i njenom suprugu koji je svih 10 puta bio sa njom kod stomatologa.
Ukoliko mislite da i Vama možemo pomoći kontaktirajte nas na 011 713 86 87 i zakažite svojh pregled i konsultacije.
https://meadent.com/wp-content/uploads/2018/04/vizil-atačmeni-drikeri-b1-krunice-mostovi-lep-osmeh-frez.jpg
400
800
Milos Potic
https://meadent.com/wp-content/uploads/2013/10/meadent-logo.png
Milos Potic
2018-04-09 10:43:08
2019-01-29 12:53:51
Frezovane krune i proteze sa atečmenima | L.S. 58 godina