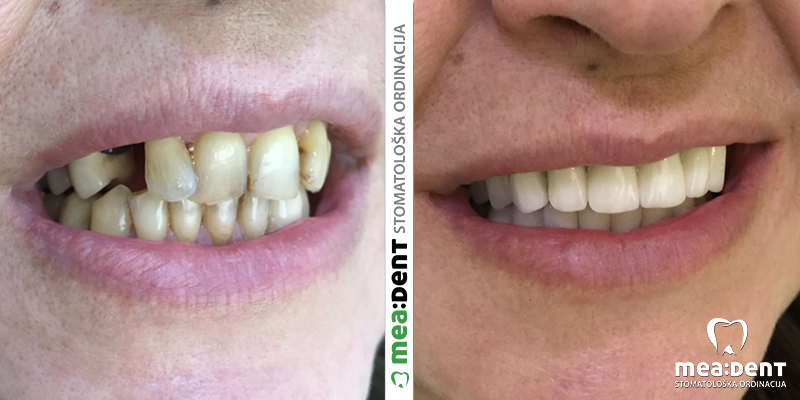 Pacijentkinja D. S.rođena 1957. godine javlja se zbog toga što je gornji desni očnjak pukao. Takođe, pacijentkinja je imala izrazitu prebojenost svih zuba i želela je da unese svežinu u svoj osmeh i da izgleda mlađe. Bočno, pacijentkinja je imala nedostatak zuba u bočnim regionima, kao i nekoliko metalokeramičkih mostova starih 15 godina.
Na osnovu ortopan snimka svi zubi u kosti su bili zdravi, tako da su mogli biti uključenu novi rad.
U gornjoj vilici pacijentkinja se odlučila za cirkularni metalokeramički most od 12 krunica. U donjoj vilici odlučila se za identičan rad od 14 krunica. U međuvremenu nakon brušenja svih zuba i otiska izradili smo pacijentkinji privremene mostove kako bi mogla neometano da ide na posao i normalno se hrani i priča.
Pacijentkinja nije bila sigurna koliko svetlije zube može da uradi ,a da to izgleda lepo, ali je već na probi postave keramike bila oduševljena promenom i svežinom i nije želela ništa da menja.
Kroz ovu kompletnu rekonstrukciju osmeha i zuba nije bilo nepredviđenih okolnosti niti komplikacija. Pacijentkinja je samo imala manje bolove nakon brušenja zuba, ali je to uspešno sanirala čestim ispiranjima mlakim čajem od žalfije, mazanjem anestetičkih gelova i melemima od biljaka.
Na kraju o efektu samog rada možete prosuditi i sami na osnovu slike. Ukoliko želite da promenite nešto u svom životu krenite od svog osmeha, on može da otključa,ali takođe i da zaključa mnoga vrata.
https://meadent.com/wp-content/uploads/2016/03/metalokeramicki_cirkularni_mostovi_b1.jpg
400
800
Milos Potic
https://meadent.com/wp-content/uploads/2013/10/meadent-logo.png
Milos Potic
2016-03-25 19:14:11
2016-03-25 19:14:11
D.S. rođena 1957. godine