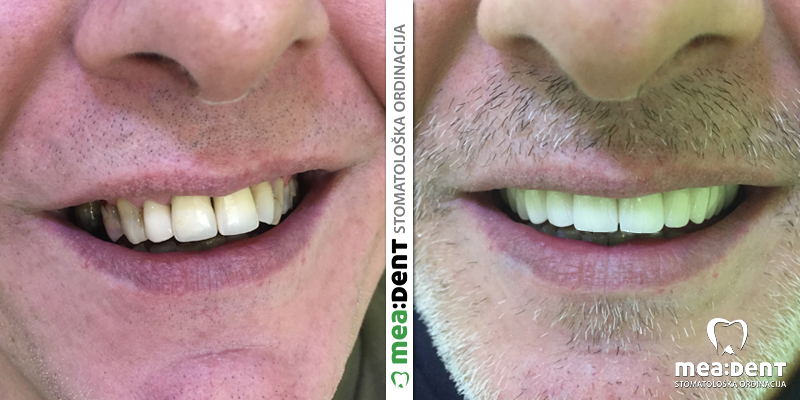 Metalokeramički cirkularni most
Pacijent D.M. rođen 1967. godine javio se u ordinaciju zbog nedostatka pojedinih bočnih zuba, otežane ishrane i narušene estetike osmeha. Većina preostalih zuba imala je na sebi plombe na više površina koje su vremenom počele da se troše, prebojavaju, a postale su i hrapave i podložne kačenju plaka, pa je i sama estetika bila sve veći problem. Pacijent ima širok osmeh koji je otkrivao sve nedostatke.
Analizom snimka odlučili smo se za izradu fiksnog rada, 3 metalokeramička mosta u gornjoj vilici u najprirodnijoj svetloj nijansi. To se jako lepo uklopilo u izgled pacijenta, njegovu polusedu bradu i kosu.
Na snimku su bile prisutne 2 metalokeramičke krunice na obe jedinice , dok su svi preostali zubi izgledali oštećeno. Najlogičnije rešenje bilo je i najlepše. Da bi smo uradili čvrst i estetski lep rad morali smo da skinemo krunice sa centralnih sekutića , izbrusimo preostale zube i uzmemo precizan otisak adicionim silikonom kako bi izradili mostove , 2 bočna i jedan u prednjem regionu gornje vilice.
Naš pacijent bio je izuzetno osetljiv na vodu iz turbine tokom brušenja, uz komentar da "ne može da diše na nos i ne ume da zatvori jezikom ulaz u grlo". Nakon 15 minuta mučenja i konstantnih prekida u radu stomatologa pacijent je "uvežbao" kako da zatvori jezikom grlo i kako da diše na nos. To govori da "svako od nas sve može kada to čvrsto odluči". On sam bio je oduševljen što je postigao nešto što je mislio da ne može. Nama je rad u tom trenutku bio drastično olakšan.
Danas, ljudi se sreću sa mnogobrojnim strahovima, ali kada se sve stavi na tas, 90% strahova je neopravdano zbog nedovoljne ili loše informisanosti. 10% su realni strahovi.
U stomatologiji ništa ne treba da izgleda strašno. Iglice za anesteziju su bukvalno "iglice", tanke toliko da ih jedva i vidite. Pažljiva ruka stomatologa i prijateljski pristup svačiji osmeh mogu da učine savršenim.
Sve polazi samo iz glave. Navike i strah menjaju se za jedno popodne, verovali ili ne.
https://meadent.com/wp-content/uploads/2017/08/metalokeramicki-cirkularni-most-krunice-b1-gornja-vilica.jpg
400
800
Milos Potic
https://meadent.com/wp-content/uploads/2013/10/meadent-logo.png
Milos Potic
2017-08-22 11:25:25
2017-08-22 11:25:25
D.M. rođen 1967. godine