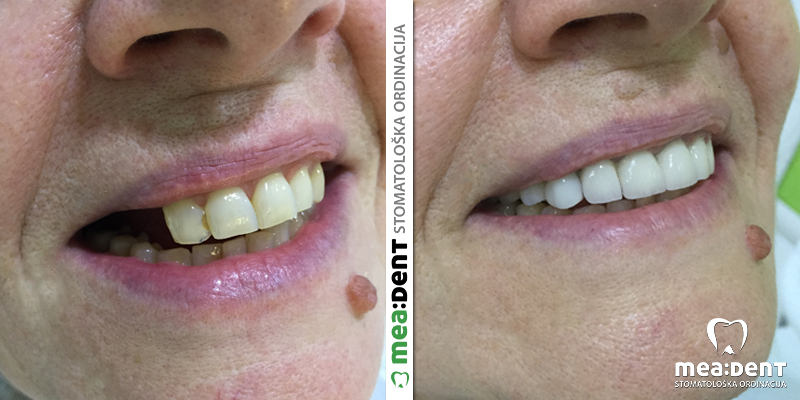 M. R. rođena 1953. godine
Metalokeramički most i vizil sa atečmenima
Pacijentkinja M. R. rođena 1953. godine javlja se zbog nedostatka svih zuba u gornjoj vilici sa desne strane iza drugog sekutića, kao i nedostatka nekoliko bočnih zuba u istoj vilici sa leve strane. Pacijentkinji je bilo izuzetno teško da se hrani, smeje i normalno govori.
Prva ideja sa kojom nas je posetila jeste bila da se pokuša ugradnja implanata i izbegne izrada mobilne proteze. Pacijentkinja nije imala ni adekvatnu informaciju kada su proteze u pitanju jer je mislila da se radi o običnim protezama sa žičicama čija je izrada opravdana samo kao privremeno rešenje do konačnog rada.
Nakon analize 3d ortopana, kao najvažnijeg dijagnostičkog pomagala za potencijalnu ugradnju implanata, došlo se do zaključka da pacijentkinja ima veliki nedostatak kosti i spuštene sinuse obostrano. Čak i sama intervencija sinus lifta (podizanje poda sinusa kako bi se stvorio dodatni prostor za implante) bila je nemoguća.
Pacijentkinja je u gornjoj vilici imala svojih 7 zuba, od čega 5 prednjih i 2 bočna sa leve strane. Bilo je indikovano uraditi kombinovani rad od 5 metalokeramičkih kruna povezanih u most napred, 2 krune povezane u most bočno, a sve to bilo bi povezano vizil protezom sa atačmenima (drikerima) ,tako da estetski ništa ne bi bilo vidljivo, a svakako bilo bi nemoguće razlikovati zube u protezi od zuba u keramici.
Bitan detalj bile su 4 frezovane krune sa bravicima koje su suština u nošenju proteze. Napomena: Ako i vi imate vizil protezu sa atačmenima, stara je par meseci i već spada, problem je u lošem planu prilikom izrade proteze i neadekvatnim frezovanim krunicama.
Korišćeni su kvalitetni petoslojni ivoclar zubi, a sama boja zuba u protezi birana je nakon izrade keramike, a ne prema ključu boja. Šta to znači? Kada imate problem,kao kod ovakvog nedostatka zuba postoji realna opasnost da zub koji nadoknađujete u prednjem regionu, a u ovom slučaju desni očnjak bude sive boje u odnosu na keramički zub, jer se ispod tog zuba nalazi ležište za atačmen. Zato tehničar mora da pokaže svo svoje umeće i to spreči. Zato je mudro zube u protezu postavljati ne prema ključu boja, nego prema boji keramike. Nijanse su u pitanju, ali one mnogo mogu da pokvare utisak, ako se pogreši.
Mi smo najbolju nijansu pronašli, kao što se vidi na slici. Pacijentkinja je poželela jednu od najčešće traženih boja zuba u poslednje vreme, b1.
Pacijentkinja je na kraju bila izuzetno zadovoljna, brzo se navikla na protezu. Bila je poprilično iznenađenja da nošenje ove proteze nije ni približno teško kao što je mislila. Izgled zuba podsećao je na izgled onih koje je imala i volela. A boja je učinila da se pacijentkinja potpuno podmladi.

Ukoliko imate sličan problem možete nas kontaktirati. Rešenje uvek imamo za Vas.
https://meadent.com/wp-content/uploads/2016/01/vizil_atacmeni_most_krunice_frez_b1.jpg
400
800
Milos Potic
https://meadent.com/wp-content/uploads/2013/10/meadent-logo.png
Milos Potic
2016-01-04 19:29:29
2016-01-04 19:29:29
M. R. rođena 1953. godine