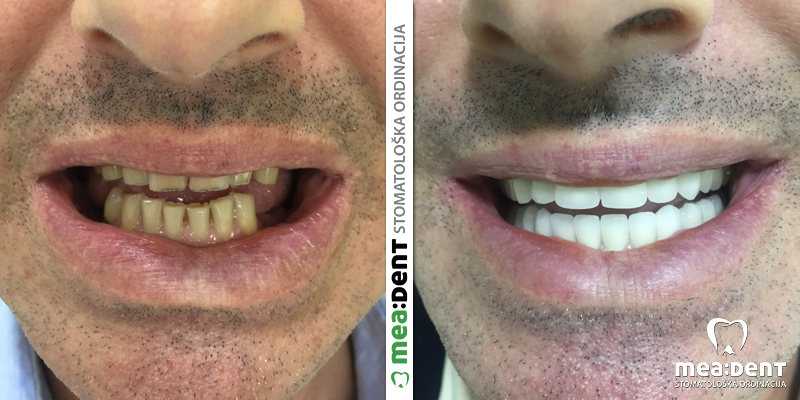 Cirkularni mostovi i krune na implantima | D.R. 46 godina
Pacijent D.R. rođen 1972. godine javlja nam se jer nije zadovoljan izgledom svojih zuba. Tamna boja zuba, istrošena gleđ, zubi koji su činili da gospodin izgleda drastično starije nego što je to bilo realno. Takođe, drugi problem je nedostatak bočnih zuba u donjoj vilici i otežano žvakanje hrane.
Dijagnoza
Na osnovu pregleda i digitalnog ortopan snimka svih zuba obe vilice došli smo zaključka da je glavni razlog istanjenih gleđnih prizmi u obe vilice ustvari nedostatak bočnih zuba u donjoj vilici. Zbog toga, zubi koji su bili napred prisutni preuzimali su ulogu zuba koji i seku i žvaću hranu, a dobro je poznato da prednji zubi treba da imaju samo ulogu sečenja hrane.
Nakon što je pacijentu predočeno da je dobar kandidat za ugradnju implanta u donjoj vilici bočno, on je napravio i 3D snimak kako bi smo to sigurnošću mogli i da potvrdimo. Na osnovu 3D snimka vilice mi saznajemo koliko implanata možemo da ugradimo, na kojim mestima i koje veličine implanata su moguće.
Protetski rad
U gornjoj vilici smo pacijentu ugradili 14 metalokeramičkih krunica,a u donjoj 8 i ugradili 4 implanta, po 2 bočno sa obe strane. Nakon perioda zarastanja i vezivanja implanta za kost (nakon 6 meseci) mogli smo uraditi i protetski rad, mostove na šrafljenje na implantima. Na kraju pacijent je dobio vrlo lep osmeh i funkcionalno efikasan zagrižaj na svim zubima u obe vilice.
Pacijent je bio prezadovoljan, pa smo na kraju zasluženo dobili i džinovsku bombonjeru.
https://meadent.com/wp-content/uploads/2019/06/keramicke-krune-na-implantima.png
400
800
Milos Potic
https://meadent.com/wp-content/uploads/2013/10/meadent-logo.png
Milos Potic
2019-06-25 07:21:59
2020-01-03 13:54:40
Cirkularni mostovi i krune na implantima | D.R. 46 godina