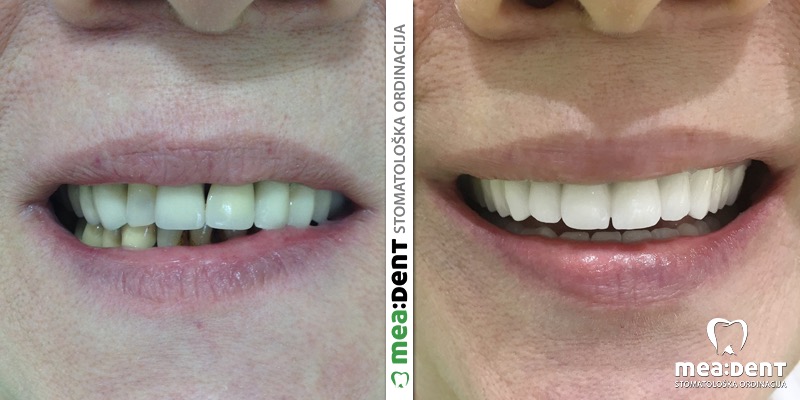 Metalokeramički mostovi u obe vilice | Z.G. 60 godina
Pacijentkinja Z.G. rođena 1959. javila nam se zbog zelje da svoje stare mostove zameni i ojača preostale zube koji nisu bili pod krunama. Godinama su se sve više njeni zubi lomili i svaka nova zamena plombi značila je i novi gubitak zubne mase.
Dijagnoza
Na osnovu ortopan snimka svih zuba i pregleda u ordinaciji došli smo do zaključka da je pacijentkinja ranije radila metalokeramičke mostove, ali svaki u različitim vremenskim periodima. To je dovelo do toga da je visina zagrižaja bila poremećena,a linija gornjih i donjih zuba tokom osmeha kriva. Izgled donjih prednjih zuba koji su bili njeni nije bio adekvatan. Desni su se povukle i stvorile trouglaste praznine izmedju zuba, a pošto je pacijentkinja i pušač to joj je dodatno uticalo na čestu pojavu kamenca i remetilo estetiku.
Kost u obe vilice je bila očuvana bez bilo kakvih patoloških nalaza. Pacijentkinji je bila potrebna kompletna protetska rekonstrukcija i presvlačenje svih zuba u obe vilice. Tako je bilo moguće rekonstruisati visinu zagrižaja i dobiti estetski i funkcionalno odličan rad.

Protetski rad
Nekim zubima bilo je potrebno lečenje, a nekim zubima i ojačanje livenim nadogradnjama. Na kraju smo pacijentkinji uradili nekoliko metalokeramičkih mostova u obe vilice i uspeli da ostvarimo sve njene želje.
Bez obzira na teško donešenu odluku da konačno sredi svoje zube,pacijetkinja je na kraju pokazala i hrabrost i istrajnost i bila zaista prezadovoljna postignutim rezultatima. Očekivala je manje i dobila mnogo više.
Pacijentkinji smo dali sve savete u vezi održavanja higijene protetskog rada, kao i savet da je potrebna izrada relaksacionog splinta kako bi se privikla na novu visinu zagrižaja. U nekim slučajevima podizanja zagrižaja za 2-3 mm pacijenti se mogu žaliti na prolazan bol u mišićima ili viličnom zglobu, ali kod naše pacijentkinje to nije bio slučaj.
https://meadent.com/wp-content/uploads/2019/06/metalokeramicki-most-u-gornjoj-vilici-boja-b1.jpg
400
800
Milos Potic
https://meadent.com/wp-content/uploads/2013/10/meadent-logo.png
Milos Potic
2019-06-25 07:40:40
2020-01-03 13:53:34
Metalokeramički mostovi u obe vilice | Z.G. 60 godina