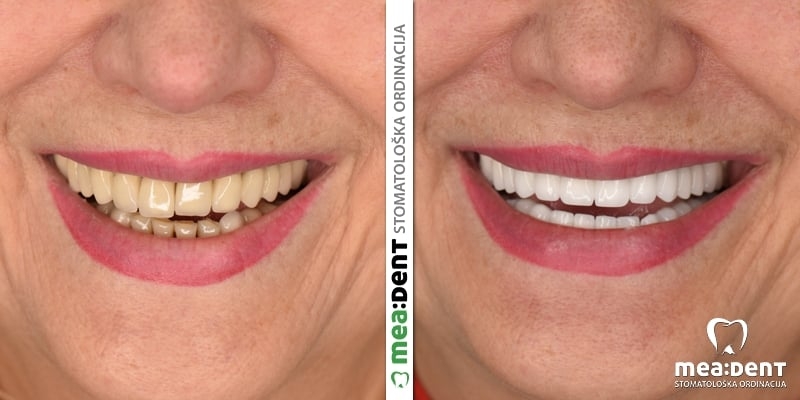 Zirconium crown | SI 57. year
Patient SI born in 1967. she contacted us after following pictures and descriptions of our works for a long time. It is interesting that even based on the text, she was able to explain to us exactly what kind of teeth she wanted. We wanted to make a joke and asked the patient: "It's impossible that you read the whole text?" We thought that hardly anyone reads it.._", And she replied: "I have read from beginning to end every text of yours that you have published so far." We were very grateful to her when we found out.
Diagnosis
The old prosthetics she had done 15 years ago made her look older than she really is, and the split bridge in the middle between the upper central incisors had the effect of lowering one side of the bridge down by a couple of millimeters. The patient had no teeth in the lower jaw on both sides. It's also one of the reasons why the dental bridge went down into the empty space.
Prosthetic work
After analyzing the video, creating a therapeutic plan for the patient was simple. In the upper jaw, it was only necessary to remove the old crowns, check and process the old supports and make ceramic crowns on them. In the lower jaw, we covered all the front teeth in crowns and made a vise with attachments, or in other words, a click-on prosthesis. In the previous texts there were many words about this type of prosthetic work. If you do not want implants and cannot make ceramic bridges laterally, this kind of prosthesis is the most comfortable solution, because it is connected to the crowns in front.
In the end, the painting remained. The patient was very satisfied with the color and shape of her teeth, and she did not take her smile off her face. Also, considering that he smiles quite widely and has a very nice smile, it was not difficult for us to take nice photos.
If you have a desire to do something similar for yourself, you can contact us. Send an email with a question to ordinacija@meadent.com and we will send you an answer very quickly.
A beautiful smile and beautiful teeth open many doors in life. We are here to take care of it.
https://meadent.com/wp-content/uploads/2022/09/142086525_3644565855624194_129458367903049030_n.jpg
400
800
Milos Potic
https://meadent.com/wp-content/uploads/2018/12/meadent-logo-en.png
Milos Potic
2023-10-04 08:48:46
2023-10-04 08:48:48
Zirconium crown | SI 57. year