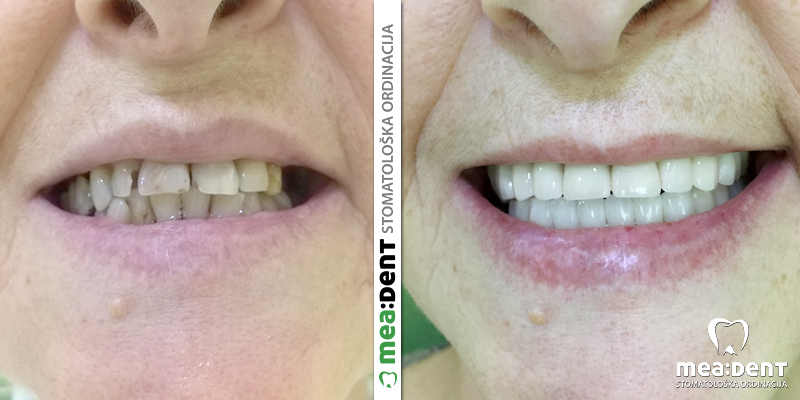 The patient a.s. born in 1955 came into contact with us for the replacement of old lateral bridges in the upper jaw after the pain in one of the carriers have become more common. The patient also was not happy with the aesthetics of their teeth. Discoloration and abrasion (wear of the teeth bite), the presence of numerous fillings to multiple surfaces contributed to the poor appearance of a complete smile.
Based on the panoramic footage of all the teeth we have come to the conclusion that, after more than 20 years, the abutments of the bridge completely damaged. The bone and gums around the teeth were not able to withstand the load of the new bridge. The patient was advised extracting teeth that have been damaged.
Installation of the implant due to a greater lack of bone was not adequate option in this case, so we opted for the combined operation, making vizil prosthesis with attachement the bridge of 6 crowns.
After the first rehearsal ceramic bridge the patient was delighted with the colors, and the appearance of their teeth that are completely resembled the shape of a tooth that has had in his youth. On the following rehearsals of teeth from denture teeth are matched to the bridge which aesthetics were completely satisfied.
After 10 days the patient came with a desire to do and bottom teeth, where we had a chance to do a fixed work this time, a circular metal-bridge of 12 crowns. The bite we get fully returned function during eating and speech, and aesthetics after the first smile was perfect.
The patient was very pleased smile emoticon got a smile how he always wanted and the color and shape of the teeth are not changed her physical description, and that was her greatest fear.
If you have a similar problem, we offer high quality solutions. Your Meadent
https://meadent.com/wp-content/uploads/2016/01/keramicke-krunice-u-obe-vilice-boja-b1-vizil-proteza-sa-atecmenima.jpg
400
800
Milos Potic
https://meadent.com/wp-content/uploads/2018/12/meadent-logo-en.png
Milos Potic
2016-01-23 09:07:13
2016-01-23 09:07:13
A.S. born in 1955