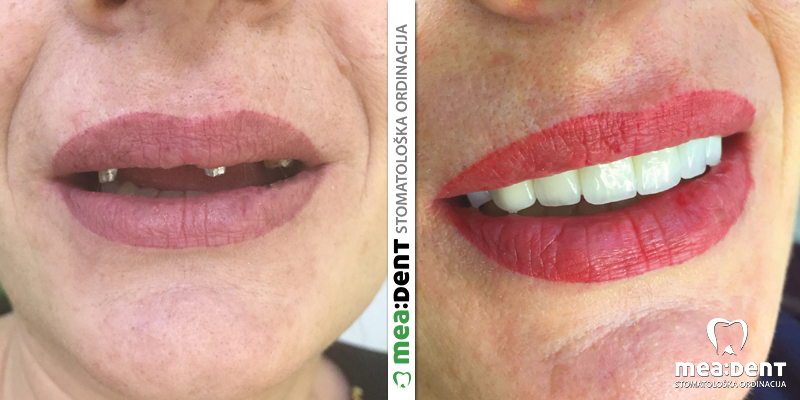 The patient NS born in 1971, came to the clinic because she had no lateral teeth in the upper jaw. She had a metal ceramic bridge of 7 members, of which only 3 teeth were abutments. Gums around the teeth were drawn, teeth bared necks and the entire bridge had to be removed.
After removing the bridge from 7 crowns two abutment teeth were very strong, and the third abutment, left upper foursome, moved up. It was indicated for extraction. After clinical x dental images of each of the remaining teeth, bite and her eating habits we have carefully reviewed the preparation of future work. Since the patient is not maseteric type and considering that we have decided that all the front teeth do not insert the bite, it was possible to create a new metal ceramic bridge of 4 members in the upper jaw in combination with vizil prosthesis with Attachement.
As a special aesthetic moment, the patient is required setting teeth and making ceramics a lighter color due to the color black hair and dark lips, our advice was B1. If you look at the picture carefully you will hardly guess what's ceramic bridge and what dentures. That is something that we do a lot when making such a combined work. Plenty of time required for a doctors team, and a lot of art to a team of technicians.
Advised her impeccable hygiene and cleaning dentures daily. The patient is now satisfied and occasionally drop in on us to drink coffee
Please consult your doctors from Mea: Dent if you have problems with the old dentures, as aesthetic, and functional. We have the best solutions.
https://meadent.com/wp-content/uploads/2016/03/b1_most_vizil_atacmeni_nedostatak_zuba_savrsen_osmeh.jpg
400
800
Milos Potic
https://meadent.com/wp-content/uploads/2018/12/meadent-logo-en.png
Milos Potic
2016-03-25 19:12:10
2016-03-25 19:12:10
N.S. born in 1971