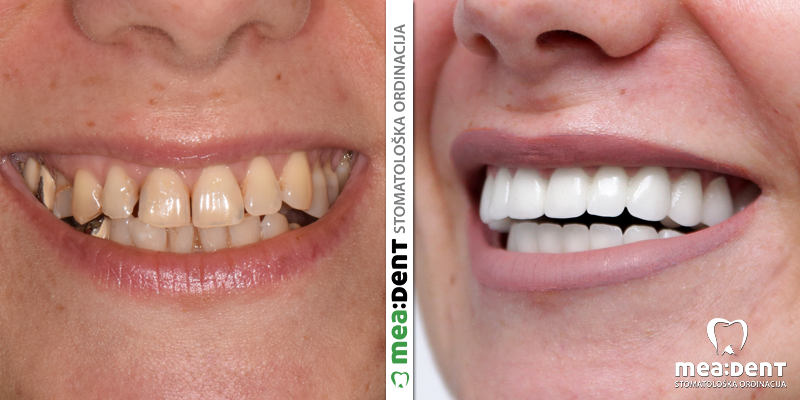 All ceramic dental bridges in both jaws | L.S. 36 years old
Patient L.S. born in 1982, has contacted our dental clinic because she wanted her dental bridges replaced and to get a new smile, a smile she would be proud of.
After several months of collecting information on Google, looking for teeth she would want to have, she has done consultations in several dental clinics. In the end she chose Meadent. She has mentioned several reasons for that, highlighting "kindness and devotion when she came to us for a consult, and having all her questions fully answered".
Our patient is coming from Croatia, and she had visited Belgrade for the first time in her life. The unfamiliar place, new people, where to find accommodation, how to use local transportation, what and where to eat…these were all not so easy factors.
When it comes to dental services, our patient knew exactly what she does and does not want. The fear and uncertainty how will everything look at the end were present during the whole process. We have done our best to make her visit to our dental clinic very pleasant.
Prosthodontic restoration
In the upper jaw we have done an  all ceramic dental bridge  with 14 crowns, and in the lower jaw, an all ceramic dental bridge with 13 crowns. The teeth under the old prosthodontic restorations were very well preserved, so we were able to use them for the new prosthodontic restorations. The problem with old dental bridges was a curved line of the bite, since the restorations were not done at the same time. Now we had only 10 days for everything to be done. Minor corrections were needed, since our patient is a true perfectionist, but the final result was perfect to our mutual satisfaction.
In the end, when she got home, she sent us numerous photos of her new smile and gratitude for respecting her wishes right to the end. She said at the end "I am looking for some flaw on these teeth just so that I can come back to Belgrade, but Belgrade will have to wait :)".
If you also have old dental bridges and wish for a beautiful and natural smile feel free to contact us. Together with you, our dentists and team of technicians can make very beautiful prosthodontic restorations.
https://meadent.com/wp-content/uploads/2019/02/krunice-b1-hrvatska-pacijentkinja-mostovi-osmeh-savrsen.png
400
800
Milos Potic
https://meadent.com/wp-content/uploads/2018/12/meadent-logo-en.png
Milos Potic
2019-02-18 12:21:42
2019-02-20 15:09:43
All ceramic dental bridges in both jaws | L.S. 36 years old