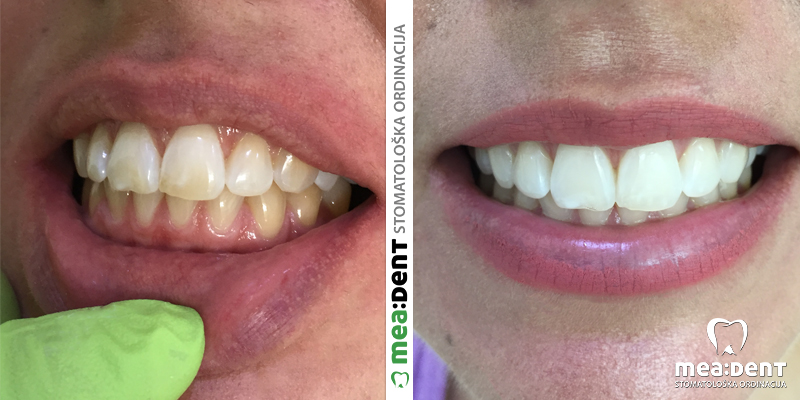 Theet Whitening
Patient K.K., born in 1981, has contacted us because of teeth coloring and her desire to whiten them. A good oral hygiene, the presence of only few composite fillings in her lateral teeth and all front teeth vital (alive), allow us to proceed with teeth whitening treatment.
The patient was offered two types of whitening – in-office and home whitening. There is a brief explanation for all of you, who do not know the difference.
In-office whitening is performed using a strong hydrogen peroxide paste with concentration of 38% and with polymerization lamp (which is not a laser). Effects are visible already after 1 hour, but teeth sensitivity to almost all stimuli, warm, cold, sweet, sour, is increased in the next following days. Whitening does not damage the teeth providing that an appropriate time frame is used and that in-office whitening procedure is followed. The sensitivity ceases after few days. The effect itself and duration of whitening depend on patient's habits and his teeth structure. Those patients who often consume vine, green, black tea and black coffee will have a shorter whitening effect.
On the other hand, whitening at home is performed based on foils and carbamid peroxide paste in the concentration of 22%, and based on an in-office taken dental impression. The sensitivity is reduced provided that a strict dentist's procedure is followed. With these plastic splints, you can sleep for 10-14 days and the effect is excellent.
Our patient has chosen whitening at home, and these are her results after 14 days.
If it might be the case that certain tooth is not alive, this type of whitening would not provide an adequate result. Teeth without nerves should be whiten using a special technique, and we will talk about this in one of the future papers.
https://meadent.com/wp-content/uploads/2017/08/beljenje_zuba_2_nedelje.jpg
400
800
Milos Potic
https://meadent.com/wp-content/uploads/2018/12/meadent-logo-en.png
Milos Potic
2017-08-22 11:53:51
2017-11-07 11:53:23
K.K. born in 1981