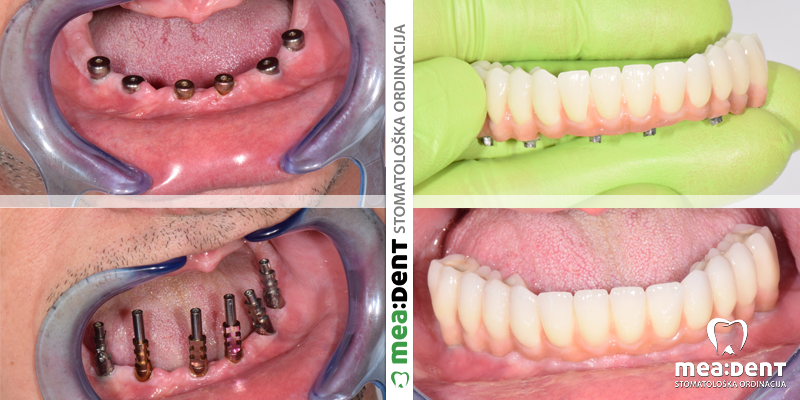 Screw retained ceramic bridge on implants All on 6 | S.F. 48 years old
Patient S.F. born in 1970 has contacted us with not a single tooth, having 6 implants in the lower jaw placed more than 10 months ago, and complete denture in the upper jaw. Patient wishes to have a fixed solution that will look nice and which he would not have to remove all the time. He wishes to do the same prosthodontic restoration in the upper and lower jaw, but for a start he wants to see the teeth done in the lower jaw.
Diagnosis
After 3d scan analysis, which he brought to our dental clinic, we realized that the patient is fully familiar with the procedure and possibilities of prosthodontic restorations on implants.
Prosthodontic restoration
The already placed implants were very well positioned and the bone structure around them was in a perfect condition, as well as the gums, having very nice color and texture.
For this patient we have ALL ON 6 concept, a screw retained ceramic bridge with special connections. This kind of prosthodontic restoration is highly precise and for any laboratory technician very demanding to be produced. It requires a dentist to take a perfect impression using the method of the open dental impression tray and transfers for the open dental impression tray connected with acrylic bridge. Even a minor mistake made when taking this dental impression, may lead to inability of bridge and implants to be connected thus leading to repeating the process of making new prosthodontic restoration all over again. This is why there is no rush with this procedure and each phase requires full dedication with not a single mistake. After this is done, highly skilled laboratory technicians take over and proceed with making of screw retained ceramic bridge. In the following phase, the patient comes for a try out of the bridge, so that we make sure that it has a perfect stability and check the position of teeth and their relation with teeth in the upper jaw as well as the height of the bite.
After this we agree with the patient on the desired shape and color of teeth, and in the next phase the patient receives his prosthodontic restoration and can finally see how it all looks like. On the inside of the crowns and on the biting surfaces there are very small holes through which the screw retained ceramic bridge is being placed on implants. After the placement, these holes are filled precisely with special composite material which is very solid and in the color of ceramics that the patient has chosen for his prosthodontic restoration.
The result was perfect and the patient was more than satisfied.
All on 6 concept
This kind of prosthodontic restoration is for patients with no teeth, that have enough bone structure for the implants to be placed. Dental clinic Meadent in accordance with its protocol, takes on the procedures of screw retained ceramic bridges placed on 4, 5 or 6 implants.
The advantages of All on 6 concept are huge. Oral cavity hygiene and proper maintenance of the hygiene of the implants is crucial for long lasting of the prosthodontic restoration. This is why we advise our patients to make an appointment once a year for a checkup, so that prosthodontic restoration can be taken off, to check the implants and their hygiene. It is also necessary once a year, to bring a control 3d scan of implants, so that the dentist can confirm if everything is going well or so that he can react on time if any corrections are needed. If the actual corrections are needed, this can be done and the screw retained ceramic bridge can be placed back on implants.
If you have no teeth left and you wish the best quality prosthodontic solution feel free to contact us and make an appointment for detailed analysis of your case.
https://meadent.com/wp-content/uploads/2019/02/all-on-6-most-bridge-sraf-screw-srafljenje.png
400
800
Milos Potic
https://meadent.com/wp-content/uploads/2018/12/meadent-logo-en.png
Milos Potic
2019-02-15 09:02:45
2019-04-19 09:21:05
Screw retained ceramic bridge on implants All on 6 | S.F. 48 years old